British Housebuilders: History and Analysis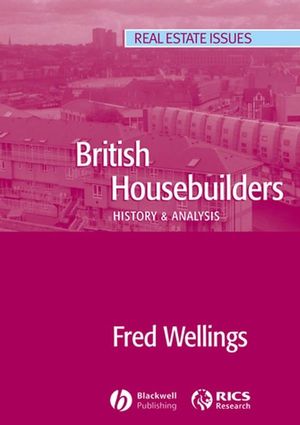 British Housebuilders: History and Analysis
ISBN: 978-1-405-17165-6 April 2008 Wiley-Blackwell 304 Pages
Description
British Housebuilders
is the first comprehensive account of the corporate history of the twentieth-century speculative housebuilding industry - the firms that `supplied` those houses and the entrepreneurs who created those firms.
The transition from the local housebuilders of the 1930s, through the regional diversification of the 1960s, to the national housebuilders of today is charted via a series of industry league tables.

The rationale for the growth in national firms is analysed. The conventional explanation of economies of scale is rejected: instead, the stock market is found to play a key role both in facilitating acquisitions and in demanding growth from its constituent companies.

The supply-side analysis also addresses the frequent corporate failures: succession issues, lack of focus and the 1974 and 1990 recessions have played their part in equal measure.

British Housebuilders provides the first opportunity to review the evidence drawn from a century of speculative housebuilding; it is only with this historical perspective that sound judgements can be made on the corporate role in housebuilding.
Table of contents
Preface.
Introduction.
Part 1: The Supply Side of the Housebuilding Industry.
2. Methodology, Sources and Definitions.
3. The Pre-War Housebuilder.
4. War and Building Controls.
5 The Post-War Housing Boom 1955-1973.
6. Recession and Recovery, 1973-1988.
7. Recession and Recovery Again, 1829-2000.
8. Market Share through the Century. A Summary.
Part II: The Private Housebuilder: a Rationale of Growth and Decline.
9. The Importance of the Entrepreneurial Function within the Speculative Housing Industry.
10. Who Were The Builders?.
11. The Rationale for Growth: The Economies That Accrue To Size.
12. The Decline of the Private Housebuilder: A Chronology.
13. Decline: An Overview.
14. An Alternative Explanation of Growth
Reviews
'The author's encyclopaedic knowledge from researching and monitoring the industry shine through, but the book also draws on company accounts and a series of in-depth interviews with firm founders and senior directors or their relatives.'
Housing Studies March 2007
.
'Comprehensive in its scope and rigourous in its approach - an essential work or reference for any serious student of construction and housebuilding' - Building Research and Information
Features


Analyses the relationship between housebuildng firms' behaviour and the housing market cycle


Provides the historical perspective currently absent from the literature


High-profile author in housing writing in an accessible style