British Literature 1640-1789: A Critical Reader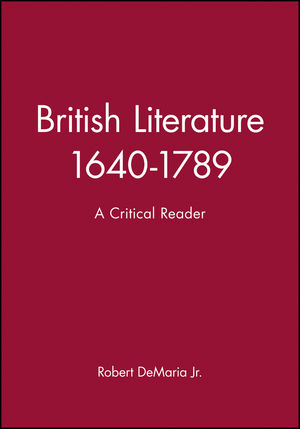 British Literature 1640-1789: A Critical Reader
ISBN: 978-0-631-19741-6 January 1999 Wiley-Blackwell 384 Pages
Description
Designed to complement DeMaria's textbook British Literature 1640-1789: An Anthology , this critical reader contains seventeen essays by sixteen contemporary literary critics and covers the full range of works printed in the anthology.
Acknowledgements.
A Note on the Form of Reference.
1. Areopagitica, Censorship, and the Early Modern Public Sphere: David Norbrook.
2. From 'Milton and the Fit Reader', Sharon Achinstein.
3. 'The Balance of Power in Marvell's "Horatian Ode"': Thomas M. Greene.
4. 'Oroonoko's Blackness': Catherine Gallagher.
5. 'Lordly Accents: Rochester's Satire' (1994): Claude Rawson.
6. From Brittania's Issue, 'Dryden's "Anne Killigrew": Towards a New Pindaric Political Ode": Howard Weinbrot.
7. Ironic Monologue and 'Scandalous Ambro-dexter Conformity'" in Defoe's The Shortest Way with the Dissenters": D. N. DeLuna.
8. 'Strange Complicities: Atheism and Conspiracy in A Tale of a Tub': Roger Lund.
9. From Resemblance and Disgrace, 'The Rape of the Lock as Miniature Epic': Helen Deutsch.
10. From English Women's Poetry 1649-1714, 'Anne Finch: Gender, Politics, and Myths of the Self': Carol Barash.
11. 'The Spirit of Ending in Johnson and Hume': Adam Potkay.
12. From The Muses of Resistance, 'An English Sappho Brilliant, Young and Dead?' Mary Leapor Laughs at the Fathers': Donna Landry.
13. O Lachrymarum Fons: Thomas Gray's Sensibility: George E. Haggerty.
14. 'The Culture of Travesty: Sexuality and Masquerade in Eighteenth-Century England': Terry Castle.
15. From The Literary Genres of Edmund Burke, 'Theater and Counter-Theater in Burke's Reflections on the Revolution in France': Frans De Bruyn.
16. Cowper's Hares: David Perkins.
17. Colonizing the Breast: Sexuality and Maternity in Eighteenth-Century England: Ruth Perry.
18. Unparodying and Forgery: The Augustan Chatterton: Claude Rawson.
Bibliography.
Index.
"[This anthology] of critical essays makes a welcome addition to the scholarship and teaching of that historical span of English literary history often awkwardly referred to as 'the long eighteenth century."Notes and Queries
* Includes major established scholars and key new voices.
* Offers articulate readings of important individual works while situating those works in historical context.
* Emphasises the diversity of critical approaches.