British Political Science: Fifty Years of Political Studies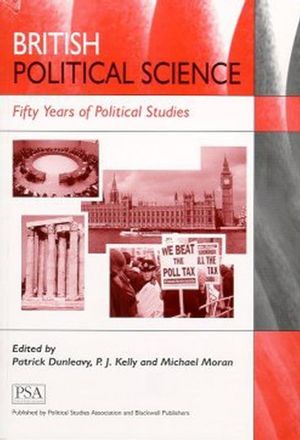 British Political Science: Fifty Years of Political Studies
ISBN: 978-0-631-22412-9
Jun 2001, Wiley-Blackwell
240 pages
Description
This important new retrospective includes twenty of the most influential works published in Political Studies in the last half century. Articles by leading scholars including Brian Barry, Michael Oakeshott, John Dunn, G.D.H. Cole, Ivor Crewe, Steven Lukes and Karl Deutsch illustrate major developments in political science, while a critical introduction explores common themes and examines challenges for the future.
Preface
.
1. Characterising the Development of British Political Science Patrick Dunleavy, P. J. Kelly and Michael Moran.
Political Theory.
Introduction by P. J. Kelly.
2. What is Socialism? G. D. H. Cole.
3. Justice and the Interpretation of Locke's Political Theory John Dunn.
4. The Vocabulary of a Modern European State Michael Oakeshott.
5. How is Critical Theory Possible? Theodor W. Adorno and Concept Formation in Sociology Gillian Rose.
6. Liberty and Equality Hillel Steiner.
7. Constructing and Deconstructing Liberty: A Feminist and Poststructuralist Analysis Diana Coole.
British Politics.
Introduction by Patrick Dunleavy.
8. The Routes of Entry of New Members of the British Cabinet, 1868-1958 F. M. G. Willson.
9. Consensus or Elite Domination: The Case of Business J. P. Nettl.
10. Angels in Plastic: the Liberal Surge in 1974 James Alt, Ivor Crewe and Bo Särlvik.
11. Thatcherism and the Conservative Party Paul F. Whiteley, Patrick Seyd, Jeremy Richardson and Paul Bissell.
Comparative Politics and Empirical Theory.
Introduction by Patrick Dunleavy.
12. Towards an Explanation of McCarthyism Nelson W. Polsby.
13. The Propensity to International Transactions Karl W. Deutsch.
14. The New Democracy Graeme Duncan and Steven Lukes.
15. The Myth of the 'Two Hundred Families' Malcolm Anderson.
16. Theories of the French Party System under the Third Republic B. D. Graham.
17. Political Economy C. A. E. Goodhart and R. J. Bhansali.
18. Is it Better to be Powerful or Lucky? Brian Barry.
19. Model or Metaphor? A Critical Review of the Policy Network Approach Keith Dowding.
Notes on Contributors.
Sources for Contributors.
Index