British Politics Today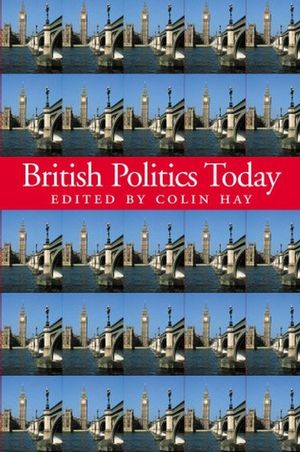 British Politics Today
ISBN: 978-0-745-62318-4 May 2002 Polity 320 Pages
Description
Written by a distinguished group of internationally renowned scholars, this volume provides a comprehensive and contemporary overview of the major issues dominating British politics. The book not only maps the current political agenda, but actively contributes to the debates surrounding British politics in the international community at the beginning of the twenty-first century.
British Politics Today examines key developments in British politics such as the shift in focus by parties away from their traditional voting base towards 'consumers' at large, and the rise in identity voting following devolution. The book is characterized by a broad and inclusive conception of British politics, resolutely refusing to reduce political analysis to a narrowly conceived sphere of government, and it explores contemporary British political developments in the broader context of European, international and global dynamics. Some of the major issues discussed include the Belfast agreement, Britain's future in Europe, the political economy of contemporary Britain, the representation of women within the British polity, the politics of welfare reform, and the ethics of foreign policy.

This collection provides a valuable teaching resource for courses on British politics, as well as a crucial focus for debate by academics and researchers in this dynamic field. It will be essential reading for all those interested in the political science, political economy and political sociology of contemporary Britain.
Table of contents
List of Contributors.
1. British Politics Today: Towards a New Political Science of British Politics? (Colin Hay).
2. Pluralism and the Study of British Politics : It is Always the Happy Hour for Men with Money, Knowledge and Power. (David Marsh).
3. Gender and Contemporary British Politics. (Pippa Norris).
4. The Paradoxes of British Political Parties. (Dennis Kavanagh).
5. Electoral Competition in Contemporary Britain. (David Sanders).
6. The New Public Administration of the British State. (R. A. W. Rhode).
7. Towards a New Welfare Settlement? (Ruth Lister).
8. The New Political Economy of Postwar Britain. (David Coates).
9. Britain's European Future? (Ben Rosamond).
10. Ethics, Labour and Foreign Policy. (Stuart Croft).
11. Towards a New Constitutional Settlement? (James Mitchell).
12. The Belfast Agreement: The Making, Management and Mismanagement of a Consociation? (Brendan O'Leary).
Index.
Reviews
"Through an array of insightful chapter, British Politics Today, provides an illuminating account of the changing nature of, and the new ways of seeing, contemporary British politics. It is an excellent volume which will be useful to teachers and students alike." Martin Smith, University of Sheffield
Features


Hay has gathered together an internationally renowned group of academics to write for this text


Provides a current and comprehensive view of the major issues in British Politics


Offers a re-examination of the discipline of politics in the light of the changing position of Britain in Europe and the wider world