British Politics in the Global Age: Can Social Democracy Survive?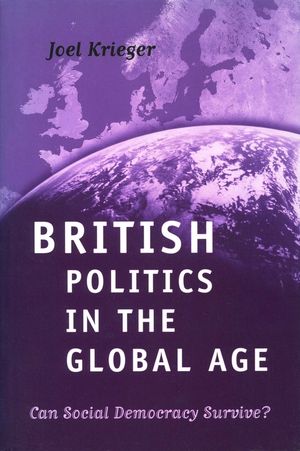 British Politics in the Global Age: Can Social Democracy Survive?
ISBN: 978-0-745-62024-4
Oct 1999, Polity
232 pages
Description
Joel Krieger, one of America's most perceptive observers of British politics, provides an in-depth study of New Labour.
Preface.
Part I: Situating New Labour:.
1. Social Democracy: The British Case in Theoretical and Comparative Perspective.
2. New Labour: Regime Characteristics, Strategic Options, Dilemmas.
Part Two: The Organization of Production:.
3. Social Democracy, Class and National Policy Sovereignty.
4. Globalization, Post-Fordism and the British Model.
Part Three: The Unmaking of the English Working Class.
5. Women, Work and Social Policy.
6. Ethnic Minority Groups: Employment and Settlement Patterns.
Part Four: Modular Politics:.
7. Modularity, Identities and Cultural Repertoires.
8. National Identities.
9. Communities: Actual and Imagined.
Conclusion. .
10. Challenges to Contemporary British Government.
Notes.
References.
Index.
'This is an ambitious and original study of the politics of New Labour ... It offers a fresh perspective and a challenging assessment of what New Labour needs to do to carry its project through to success.'
Andrew Gamble, University of Sheffield
'It is most exciting to have a book on New Labour that focuses not on political parties or personalities or even just on economic and constitutional challenges but on our changed social conditions - and that includes new ethnicities and transnational identities. Ethnic minority groups are struggling with what "community" means - in practical terms, what it means to be Muslim or Indian or black. Krieger sees these debates as key to the reconceptualization of collectivity today and challenges New Labour to connect these debates to its core value of community. His understanding of a new multicultural social democracy is an important contribution to the reformulation of centre-left politics - and not just in Britain.' Tariq Modood, Professor of Sociology, Politics and Public Policy, University of Bristol

'This is a powerful and original argument for the renewal of social democracy in Britain. Like Tony Blair, Joel Krieger recognizes that the Labour Party must break radically with the welfare state which it took the lead in establishing after World War Two.' Samuel H. Beer, Harvard University

"His analysis is something of a tour de force: globalisation and post-Fordism, deindustrialisation and the British working class, the impact of women and minorities on work and social policy." Michael St John Parker, Parliamentary Affairs

" . an important book that adds clarity to the often amorphous notion of globalization.The book's conceptual and theoretical rigor, combined with its concern to analyse the effect of changed structural conditions on social democratic politics, serves as a useful antidote to the journalistic obsession with the "Blair effect" and the ubiquitous spin doctors.The book is an important and enriching contribution to the analysis of British politics. It eschews the language of "no alternative" to argue that in a global age New Labour can and should seek to craft a distinct form of social democratic politics equipped for a multinational and multiethnic Britain. It deserves to be widely read." Andrew P Geddes, University of Liverpool, American Political Science Review
* An original analysis of New Labour and its model of government.
* Investigates the connections between global processes and domestic politics.
* Provides a new conception of social democracy which takes account of the effects of globalization.