British Politics since 1945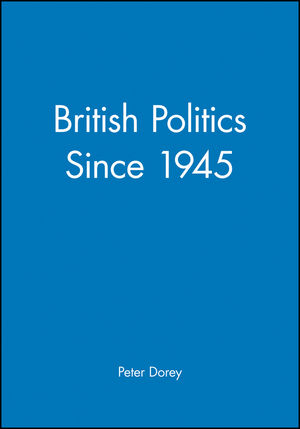 British Politics since 1945
ISBN: 978-0-631-19075-2 October 1995 Wiley-Blackwell 400 Pages
Description
British Politics since 1945 offers a comprehensive overview of postwar British politics ideal for introductory students and general readers alike. The book balances a narrative of the major events and personalities of the postwar political scene with a critical assessment of the recurrent issues and concerns of political debate. It also analyses the main idealogical perspectives operating within party politics since the Second Wolrd War - from the Right, the Centre and the Left - showing how these dominant groups have viewed developments and expressed their ambitions over the last fifty years.
Succinct chronological account complemented with critical, thematic assessment of ideas
Covers central topic on all introductory politics and postwar history
Extensive use of tabular material, and appendices for reference
Introduction.
1. Achievements to Atrophy under Attlee (1945-51).
2. Peace and Prosperity (1951-1960).
3. 1960-70 Decade of Doubt; Decade of Reform.
4. Careering towards Crisis (1970-1979).
5. Renaissance of the Right (1979-1990).
6. The Pursuit of Post-Thatcherism (1990-1994).
7. Perspectives on British Politics since 1945.
8. Concluding Considerations.
Appendices.
"Readable and well organised, it is equally suitable for a college course or a popular readership." History: Reviews of New Books
Most up-to-date overview of post-war British politics available
Succinct chronological account complemented with critical, thematic assessment of ideas
Covers central topic on all introductory politics and postwar history
Extensive use of tabular material, and appendices for reference