Brokers, Bagmen, and Moles: Fraud and Corruption in the Chicago Futures Markets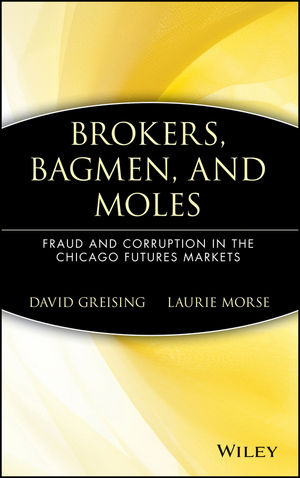 Brokers, Bagmen, and Moles: Fraud and Corruption in the Chicago Futures Markets
ISBN: 978-0-471-53057-2 July 1991 337 Pages
Description
Describes the two year government undercover operation investigating corruption and illegal practices in the two Chicago commodity exchanges and culminating in the indictments of 46 industry professionals. Describes how these very complicated markets function and how their ``old-boy club'' style first created the problems and later shielded many of its members from investigation and prosecution. A true inside account, it explores rampant fraud and abuse in the futures markets.
The Knock at the Door.

Manias, Bucket Shops, and Corners.

Stumbling Toward Reform.

Scrappy Survivor: The Early Years of the Merc.

Years of Plenty: The Young Turks Take Charge.

Leo & Co.: The Merc Today.

Inside the Board of Trade.

Friends in High Places.

From Abscam to Hedgeclipper.

The Origins of the Sting.

Life as a Mole.

Running for Cover.

Damage Control.

The Reckoning.

The Aftermath.

Epilogue: What Should Be Done?.

Notes.

Index.