Brook's Clinical Pediatric Endocrinology, 5th Edition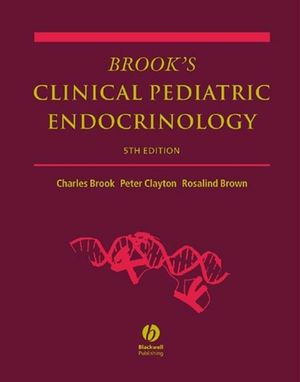 Brook's Clinical Pediatric Endocrinology, 5th Edition
ISBN: 978-1-405-17166-3
Apr 2008, Wiley-Blackwell
608 pages
Description
This new edition of the benchmark text on clinical pediatric endocrinology still remains at the forefront of world clinical opinion. Furthermore, the style, which has been the hallmark of the book for the last 20 years, has been maintained for this Fifth Edition.


New features of this Fifth Edition include:



Special new chapters cover the fetal origins of adult disease and the
endocrine consequences and management of critical illness

Now opens with a basic science section summarizing the mechanisms of hormone action, genomics, proteomics and the application of molecular biology to clinical practice

Two new co-editors have been introduced – Peter Clayton and Rosalind Brown

Every chapter has been updated
1. Genetics and genomics.
Peter Kopp.
2. Principles of hormone action.
Melissa Westwood.
3. Measuring hormones, molecular tests and their clinical application.
Jan-Maarten Wit, Marcel Karperien, Bart Ballieux.
4. Congenital Disorders Of The Hypothalamo-Pituitary-Somatotrope Axis.
Ameeta Mehta, Evelien Gevers, Mehul Dattani.
5. Acquired Disorders of the Hypothalamo-Pituitary axis.
Kyriaki-Sandy Alatzoglou, Mehul Dattani.
6. Evaluation of growth disorders.
Jerry Wales.
7. Management of Disordered Growth.
Steven Chernausek.
8. Evaluation and Management of Late Effects of Cancer Treatment.
Helena Gleeson, Stephen Shalet.
9. Evaluation and Management of Disorders of Sex Development.
Ieuan Hughes.
10. Evaluation of Disordered Puberty.
Mehul Dattani, Vaitsa Tziaferi, Peter Hindmarsh.
11. Management of Disordered Puberty.
Jakub Mieszczak, Christopher Houk, Peter Lee.
12. The thyroid.
Rosalind Brown.
13. The adrenal cortex and its disorders.
Walter Miller.
14. Polyglandular syndromes.
Catherine Owen, Timothy Cheetham, Simon Pearce.
15. Disorders of water balance.
David Repaske.
16. The Parathyroid and Disorders of Calcium and Bone Metabolism.
Jeremy Allgrove.
17. Endocrine neoplasia in childhood.
Joanne Blair.
18. Diabetes Mellitus.
Joseph Wolfsdorf, Andrew Norris.
19. Hypoglycemia: assessment and management.
Andrew Cotterill, David Cowley, Ristan Greer.
20. Childhood Obesity.
Michael Freemark.
21. Polycystic ovarian syndrome.
M. Isabel Hernandez, Verónica Mericq.
22. Weight regulation and monogenic obesity.
I. Sadaf Farooqi.
23. Fetal growth and early-life origins of disease.
Wayne Cutfield.
24. Ethical issues in clinical paediatric endocrinology.
Leena Patel , Peter Clayton
On the previous editions:
"... I thoroughly enjoyed reading the text, and would highly recommend to all paediatricians with an interest in growth and endocrine problems in childhood." -Trends in Endocrinology and Metabolism

"This book stands alone in its field..."
The Lancet
"Brook's discrimination in selecting contributors and his editorial skills are evident in the book's consistently high quality and smooth readability"
The New England Journal of Medicine
"Controversial issues are well handled"
Medical Journal of Australia
"...a major contribution to the literature on paediatric endocrinology"
Archives of Disease in Childhood
The definitive international clinical reference book in the field


Special new chapters cover the fetal origins of adult disease and the
endocrine consequences and management of critical illness

Now prefaced by a basic science section summarizing the mechanisms of hormone action, genomics, proteomics and the application of molecular biology to clinical practice

Two new co-editors have been introduced – Peter Clayton and Rosalind Brown



Every chapter has been updated