Buddhists: Understanding Buddhism Through the Lives of Practitioners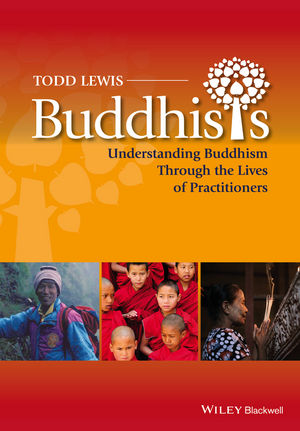 Buddhists: Understanding Buddhism Through the Lives of Practitioners
ISBN: 978-1-118-32206-2 April 2014 Wiley-Blackwell 384 Pages
Description
Buddhists: Understanding Buddhism through the Lives of Practitioners provides a series of case studies of Asian and modern Western Buddhists, spanning history, gender, and class, whose lives are representative of the ways in which Buddhists throughout time have embodied the tradition.
Portrays the foundational principles of Buddhist belief through the lives of believers, illustrating how the religion is put into practice in everyday life
Takes as its foundation the inherent diversity within Buddhist society, rather than focusing on the spiritual and philosophical elite within Buddhism
Reveals how individuals have negotiated the choices, tensions, and rewards of living in a Buddhist society
Features carefully chosen case studies which cover a range of Asian and modern Western Buddhists
Explores a broad range of possible Buddhist orientations in contemporary and historical contexts
Notes on Contributors ix
Preface xiii
Acknowledgments xv
Introduction 1
Todd Lewis
Part I Buddhists in the Earliest andMedieval Eras 11
1 The Female Householder Mallika 13
Kristin Scheible
2 Bhadda Kundalakesa:The Ex-Jain 21
Alice Collett
3 Two Noted Householders of the Buddha's Time: Upasika Vishakha and Upasaka Anathapindika 29
Todd Lewis
4 Nagarjuna:TheGreatPhilosopher 39
Joseph Walser
5 WhoIsUncleDonpa? 52
David J. Cooper
6 Ma-chig Lab-dron: Mother of Tibetan Buddhist Chod 62
Michelle J. Sorensen
Part II Buddhist Lives in theWest 71
7 I.B. Horner and the Twentieth-Century Development of Buddhism in theWest 73
Grace G. Burford
8 Takyu: A Young Buddhist Nun at a Ch'an Temple in the English Midlands 80
George D. Chryssides
9 Refuge and Reconnection: One LaoWoman's Story 87
Stewart Jobrack
10 Conversion, Devotion, and (Trans-)Mission: Understanding Ole Nydahl 96
Burkhard Scherer
11 Noah Levine: Punk Rocker and Buddhist Meditation Teacher 107
Brooke Schedneck
12 Legendary Beat Poet: Allen Ginsberg 115
Tony Trigilio
13 Dr. Stephen John Fulder: Founder of Vipassana in Israel 124
Joseph Loss
14 Amala Sensei: Zen Priest 133
Sally McAra
Part III Buddhist Lives in South and Southeast Asia 145
15 Pawinee Bunkhun:The Life of a Thai Buddhist Upasika 147
Rachelle M. Scott
16 Mahasi Sayadaw of Burma 157
Bradley S. Clough
17 Corporal Monk: Venerable Sudinna's Journey from the Sri Lankan Army to the Buddhist Sangha 165
DanielW. Kent
18 The Lure of Renunciation and theWays of theWorld: MaechiiWabi ofThailand 172
Sid Brown
19 Becoming aTheravada Modernist Buddhist in Contemporary Nepal 179
Lauren Leve
Part IV Buddhist Lives in the Himalayan Region 191
20 Tenpe Gyaltsen: The Fifth Jamyang Zhepa 193
Paul K. Nietupski
21 A Female Tibetan Buddhist Diviner in Darjeeling 201
Tanya M. Zivkovic
22 Tsultrim Zangmo: A Twenty-First-Century Tibetan BuddhistWoman in South Asia 209
TsultrimZangmo andMichelle J. Sorensen
23 Bakula Arhat's Journeys to the North: The Life andWork of the 19th Kushok Bakula in Russia and Mongolia 218
Vesna A. Wallace
24 Hunger, HardWork, and Uncertainty: Tashi Dondrup Reminisces on Life and Death in a Tibetan Village 228
Geoff Childs
25 Benefiting the Doctrine and Sentient Beings: The Life of a Tibetan Lineage Master and the Ethos of Altruistic Action 236
Nicolas Sihlé
26 Living Practical Dharma: Chomo Khandru and the Himalayan Bon Tradition 246
Sara Shneiderman
27 Excavating the Stories of Border-CrossingWomen Masters in Modern Buddhism: The Oral Biography of Pelling AniWangdzin and Her Family 257
Amy Holmes-Tagchungdarpa
Part V Buddhist Lives in East Asia 265
28 The Life of a Contemporary Japanese Buddhist Priest: Protecting the Dharma and Ensuring Its Flowwith All ofOne's Strength 267
Naoyuki Ogi
29 Toshihide Numata: Igniting the Flame of the Dharma 274
Naoyuki Ogi
30 Seno'o Giro:The Life and Thought of a Radical Buddhist 280
James Mark Shields
31 Building a Culture of Social Engagement: Nichiren Buddhism and Soka Gakkai Buddhists in Japan 289
Anne Mette Fisker-Nielsen
32 Blood and Teardrops:The Life and Travels of Venerable Fazun 296
Brenton Sullivan
33 A Modern Chinese Laywoman: Dumplings, Dharani, and Dedication –Honest Auntie Li Tries to Be a Good Buddhist 305
Alison Denton Jones
Index 317
For an alternative table of contents that, for the purposes of teaching, arranges the biographies into the various schools of Buddhism, please go to www.wiley.com/go/lewisbuddhism.
"…this volume goes far in filling this lacuna in our teaching resources by presenting a series of biographies of Buddhists that demonstrates the way in which they try and live their lives asBuddhists." (H-Net.org, 1 June 2015)