Build Your Own PC Do-It-Yourself For Dummies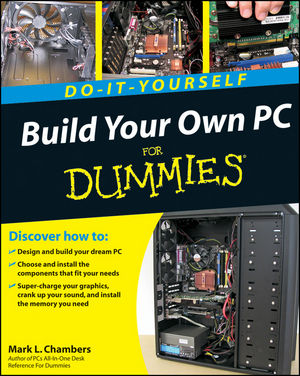 Build Your Own PC Do-It-Yourself For Dummies
ISBN: 978-0-470-19611-3 February 2009 336 Pages
Description
If you've dreamed about having a customized multimedia PC or one tricked out for your favorite games, build your own and make your dreams come true! Build Your Own PC Do-It-Yourself For Dummies makes it easy.

Not only is building your own PC a really rewarding project, it can also save you a nice chunk of cash. This step-by-step guide helps you decide what you need, teaches you what all those computer terms mean, and tells you exactly how to put the pieces together. It shows you:
What tools you need (not as many as you might think!)
All about operating systems
How to install CD and DVD drives
The scoop on sound and video, and how to put a sound system together from start to finish
How to connect a monitor and install a modem
All about setting up and configuring the hard drive
Secrets for securing your system, and more
Included is a bonus DVD showing you how to install the motherboard, CPU, RAM, ports, hard drive, video and sound cards, a DVD drive, and more. With Build Your Own PC Do-It-Yourself For Dummies, you can have the computer you want plus the satisfaction of doing it yourself!
Note: CD-ROM/DVD and other supplementary materials are not included as part of eBook file.
Introduction.
Part I: Preparations and Planning.
Chapter 1: A Screwdriver Is All You Need.
Chapter 2: What Type of PC Should I Build?
Part II: Assembling the Basics.
Chapter 3: Building the Foundation: The Case and Motherboard.
Chapter 4: A Bag of Chips: Adding RAM and a CPU.
Chapter 5: Installing Your Ports, Mouse, and Keyboard.
Chapter 6: Adding Video Hardware.
Chapter 7: Installing Your Hard Drive and Other Storage Devices.
Chapter 8: Choosing and Installing an Operating System.
Part III: Adding the Fun Stuff.
Chapter 9: Installing an Optical Drive.
Chapter 10: Let Your PC Rock!
Chapter 11: Modems and the Call of Broadband.
Part IV: Advanced PC Options.
Chapter 12: So You Want to Add a LAN?
Chapter 13: Input and Output: Scanners, Cameras, and Printers.
Chapter 14: Building a Gaming PC.
Part V: The Part of Tens.
Chapter 15: Ten Tools and Tasks for a Power User's PC.
Chapter 16: Ten Important Assembly Tips.
Chapter 17: Ten Ways to Maintain Your PC.
Chapter 18: Ten PC Pitfalls to Avoid Like the Plague.
Part VI: Appendixes.
Appendix A: About the DVD.
Appendix B: The PC Builder's Glossary.
Index.