Build a Better Mousetrap: Make Classic Inventions, Discover Your Problem-Solving Genius, and Take the Inventor's Challenge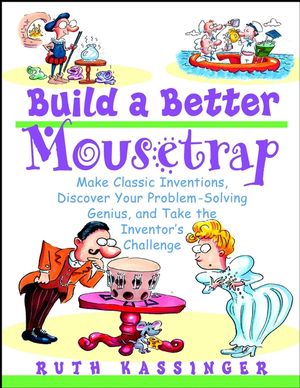 Build a Better Mousetrap: Make Classic Inventions, Discover Your Problem-Solving Genius, and Take the Inventor's Challenge
ISBN: 978-0-471-39538-6 August 2002 128 Pages
Description
Discover the secrets behind some amazing inventions!

Through observation, experimentation, and perseverance, humansthrough the ages have managed to solve a whole array of perplexingproblems. These solutions have included such incredible inventionsas the parachute, the periscope, the solar water heater, thesuspension bridge, the stethoscope, and many more. Now, with Builda Better Mousetrap in hand, you too can experience your own Eureka!moments of inspiration and sharpen your problem-solving skills aswell, while you explore the history and science behind some of theworld's most exciting inventions.

With this collection of fascinating, hands-on projects you'lldiscover the answers to such intriguing questions as: Who inventedthe hovercraft? Why is there a hole in the top of a parachute? Whatis an Aerobie and why does it fly so well? And you'll be encouragedto come up with your own awesome inventions. With easy-to-followinstructions on how to make everything from a rocket, to akaleidoscope, to a bottle organ, Build a Better Mousetrap is filledwith enough exciting projects and challenges to get you started ona lifetime of invention.
Table of contents
Acknowledgments.

Introduction.

Part I: Inventions That Use Light.

1. Spectacles.

2. Kaleidoscope.

3. Phenakistiscope.

4. Periscope.

Part II: Inventions That Move Through Air and Water.

5. Hulled Sailboat.

6. Parachute.

7. Liquid-Fueled Rocket.

8. Hovercraft.

9. Aerobie.

Part III: Inventions of Bridges and Dams.

10. Suspension Bridge.

11. Arch Dam.

Part IV: Inventions That Use Sound.

12. Stethoscope.

13. Kazoo.

14. Bottle Organ.

Part V: Inventions for Heating and Cooling.

15. Solar Water Heater.

16. Desert Refrigerator.

Part VI: Miscellaneous Inventions.

17. Water Clock.

18. Scytale.

19. Gimbal.

20. Pendulum Seismograph.

21. Portable Solar Distiller.

22. Mousetrap.

Glossary.

Index.