Building A Full-Service School: A Step-by-Step Guide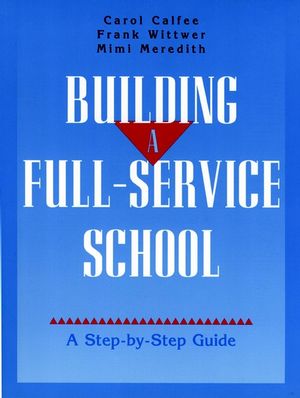 Building A Full-Service School: A Step-by-Step Guide
ISBN: 978-0-787-94058-4 September 1998 Jossey-Bass 336 Pages
Description
"No one who anticipates developing a full-service school should proceed without first studying this manual."
--Joy G. Dryfoos, author of Full-Service Schools

This how-to companion to Joy Dryfoos' Full-Service Schools is the first practical and comprehensive guide to establishing school-based community health and social support services-such as psychological counseling and drug prevention.

Full service (or integrated services) schools have emerged in response to the growing needs of children and families and the dwindling of dollars to support them. Based on the trials and triumphs of an award-winning program, this indispensable guide contains everything needed to create a full-service (or integrated-service) school--from planning processes to funding strategies to service delivery. It shows schools and community agencies how to develop workable joint agreements that accommodate a variety of programs and service delivery approaches. Valuable resources include needs assessment forms, intra-agency agreements, program evaluation tools, facilities criteria, funding sources, family service coordination plans, and disk filled with forms and templates. Building a Full-Service School has been reviewed and Andorsed by national leaders of the full-service movement.
Introduction.

Why Build a Full-Service School? Understanding How Full-Service Schools Work.

Draw a Blueprint for Collaboration: Planning and Decision Making with Stakeholders.

Pour a Foundation of Knowledge: Strategies for Assessing Community Needs.

Finance the Construction: Identifying Funding Approaches and Sources.

Frame the Funding Request: Writing Funding Proposals and Evaluation Plans.

Furnish the House: Sharing Information, Publicity, and Training.

Conclusion.

Resources.

Appendix A. Matching Full-Service Goals and Services.

Appendix B. Job Description: Full-Service Schools Program Manager.

Appendix C. Community Needs Assessment.

Appendix D. Demographic Survey.

Appendix E. Full-Service School Facilities.

Appendix F. Community Interaction Survey.

Appendix G. Funding Sources.

Appendix H. Program Evaluation.

Appendix I. Characteristics of an Effective Evaluation Plan.

Appendix J. Sharing Information.

Appendix K. Interagency Agreements.

Appendix L. Family Services Program Tools.

Appendix M. Examples of Training Topics.
"No one who anticipates developing a full-service school should proceed without first studying this manual." --Joy G. Dryfoos, author of Full-Service Schools

"Building a Full-Service School documents the process of establishing a unique collaboration of more than twenty social and health agencies with a county school system. This consortium of agencies used their inter-relationships to provide more and better services for children and their families. I am proud to say that I was personally involved with this project through service on the executive board for more than six years. The program services continue to grow and are now available in every school in that pilot county." --Morris L. Max, president, University of West Florida

"Anyone involved in establishing community partnerships to improve student outcomes should read this book. Building a Full-Service School will save practitioners and policy-makers time, money, and energy. It is like having your own consultant at your fingertips guiding you through a series of logical steps to forever change the way we look at communities and schools working together to support students and families." --Marilyn Nagano Schlief, senior program officer, National Foundation for the Improvement of Education

"This book is a 'must-read,' especially by educational and social service agency leaders who serve rural populations. The authors have provided a step-by-step process for creating interagency partnerships to provide a seamless network of educational, health, and other social services for at-risk children and their families." --William A. Clauss, director, Office for Rural Education, Western Carolina University