Building Business Acumen for Trainers: Skills to Empower the Learning Function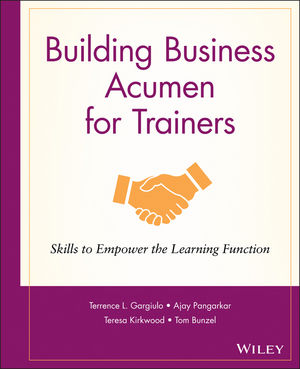 Building Business Acumen for Trainers: Skills to Empower the Learning Function
ISBN: 978-0-787-98695-7 December 2006 Pfeiffer 260 Pages
Description
As a training and development or human resource professional, do you have the knowledge, skills, and experience you need to become an indispensable strategic partner within your organization? Building Business Acumen for Trainers provides step-by-step practical advice on business practices guaranteed to  win the support, respect, and attention of your organization. Written for both new and seasoned professionals, this essential resource will show how to put into practice the three critical areas of business acumen:
Finance skills
Partnering skills
Communication skills
Acknowledgments xv
Introduction xvii
The Introduction lays out the intended audience, major themes, and organization of this book. An introductory case study tells the story of the (fictitious) Pogo Insurance Company. Try to help Stanley, Pogo's manager of training and development, tackle the challenges he encounters. Use this case study to assess your business acumen in the areas of financial skills, partnering skills, and communication skills.
SECTION 1: FINANCIAL SKILLS 1
1. A Primer on Financial Basics 3

In this review of the essential principles of business financial management, key terms and concepts are explained in clear, easy-to-understand language.
2. Understanding Budgets and Forecasts 41
Here you will learn about the differences between a budget and a forecast and about types of budgets, budget variances, preparing financial forecasts, and conducting break-even analyses. This chapter also explains how to create a variety of scenarios through forecasting and financial analysis techniques in
order to answer the what-if questions asked by management.
3. Evaluation and Return on Investment: What It Means to Management 75
This explanation of the fundamentals of conducting a training return on investment (ROI) analysis also addresses the impact of the analysis on the organization, the ROI information management needs to make informed decisions, methods of communicating ROI results to reinforce the need for
training and development (T&D), and evaluation in relation to ROI analysis and other analyses of value.
4. Outsourcing and Vendor Management 115
This description of outsourcing and its role in T&D will give you necessary insights into how to write a request for proposal (RFP), select vendors for your project, and decide between hiring and outsourcing.
SECTION 2: PARTNERING SKILLS 155
5. Building Institutional Support 157
In this chapter you will explore how to position T&D as a strategic asset in an organization and learn strategies for aligning T&D activities with major organizational objectives. You will also learn how to perform a stakeholder analysis to gain support for T&D.
6. Partnering with Your Customers 177
Through this discussion of five critical success factors of successful partnership and ten strategies for building strong partnerships, you will learn the ways in which relationships play an essential role in partnerships.
7. Partnering Inside T&D 201
This discussion of instilling the practice of partnering inside the T&D organization details eight key behaviors of leadership for T&D professionals. You will also learn about performance management and why it is an effective tool for building excellence.
8. Human Performance Technology and Business Acumen 225
In this chapter you will discover the principles of human performance technology and learn how HPT can help you to do a better job of addressing performance needs and solving performance problems.
SECTION 3: COMMUNICATION SKILLS 247
9. Writing Business Messages 249
This explanation of the fundamentals of good writing includes opportunities to practice specific strategies for writing more effective business messages.
10. Developing a Business Case 269
This chapter presents a detailed example of the elements that go into building a good business case for training.
11. Writing Reports 291
In this examination of the fundamentals of writing reports, you will learn the importance of taking preparatory steps as well as ways to approach writing each section of a report.
12. Making Effective Presentations 315
This discussion of tips and techniques for writing and delivering effective oral presentations will help you communicate effectively with your audiences and also use today's technology wisely.
Appendix 1: ROI Formulas 345
Appendix 2: Using the ROI Calculator 347
Appendix 3: Thinking Like Management Review 349
Appendix 4: Answers for Delivery Flexibility Scenario in Chapter Six 353
Appendix 5: Answers for Measurement Flexibility Scenario in Chapter Six 357
References and Suggested Reading 363
Index 367
About the Author 375
About the Contributors 377
How to Use the CD-ROM 379