Building Codes Illustrated: A Guide to Understanding the 2009 International Building Code, 3rd Edition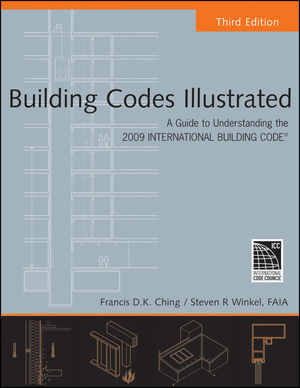 Building Codes Illustrated: A Guide to Understanding the 2009 International Building Code, 3rd Edition
ISBN: 978-1-118-16250-7
Jul 2011
432 pages
Description
An easy-to-use, illustrated guide to the 2009 edition of the International Building Code



As the U.S. building industry adapts the international standards, architects and other building professionals need a clear, practical guide to the International Building Code. Marrying the graphic skills of bestselling author Frank Ching with the code expertise of Steven Winkel, FAIA, this invaluable reference provides an easy-to-understand interpretation in both words and illustrations of the portions of the building code that are most relevant for the architect. Highlighting major changes between the new code and previous model building codes, this book will help architects understand how this code change will affect their practice.
Provides a visually-oriented guide to the 2009 International Building Code
Uses illustrations and concise explanations to hone the building codes down to the fundamentals that most designers need
Includes reviews by the International Code Council (ICC) and follows the ICC's 2009 International Building Code
Drawings by Frank D.K. Ching (Seattle, WA), Professor Emeritus of Architecture at the University of Washington, is world-renowned for his numerous architecture and design books, including Architecture: Form, Space, and Order; A Global History of Architecture; Interior Design Illustrated; Building Codes Illustrated; and Building Construction Illustrated, all from Wiley
Commentary written by nationally-recognized building codes expert Steven Winkel, the Architect member of the California Building Standards Commission, a past national board member of The American Institute of Architects (AIA), and past president of the AIA California Council
Winkel is also co-author of Building Codes Illustrated for Elementary and Secondary Schools, Building Codes Illustrated for Healthcare Facilities, and Residential Building Codes Illustrated
Preface.
1 Building Codes.
2 Navigating the Code.
3 Use and Occupancy.
4 Special Uses and Occupancies.
5 Building Heights and Areas.
6 Types of Construction.
7 Fire-Resistive Construction.
8 Interior Finishes.
9 Fire-Protection Systems.
10 Means of Egress.
11 Accessibility.
12 Interior Environment.
13 Energy Efficiency.
14 Exterior Walls.
15 Roof Assemblies.
16 Structural Provisions.
17 Structural Tests and Special Conditions.
18 Soils and Foundations.
19 Building Materials and Systems.
20 Existing Structures.
Bibliography.
Index.
The book's organization corresponds directly with the 2009 International Building Code
"The third edition of Building Codes Illustrated is an accessible and trusted intepretive guide to the 2009 International Building code (IBC) for architects, builders, engineers, and interior designers. In a visual format created expressly for design-minded readers, this hand reference helps professionals understand how the code can be applied to a building" (Concrete International, August 2010)
Provides a visually-oriented guide to the 2009 International Building Code
Uses illustrations and concise explanations to hone the building codes down to the fundamentals that most designers need
Includes reviews by the International Code Council (ICC) and follows the ICC's 2009 International Building Code
Drawings by Frank D.K. Ching (Seattle, WA), Professor Emeritus of Architecture at the University of Washington, is world-renowned for his numerous architecture and design books, including Architecture: Form, Space, and Order; A Global History of Architecture; Interior Design Illustrated; Building Codes Illustrated; and Building Construction Illustrated, all from Wiley
Commentary written by nationally-recognized building codes expert Steven Winkel, the Architect member of the California Building Standards Commission, a past national board member of The American Institute of Architects (AIA), and past president of the AIA California Council
Winkel is also co-author of Building Codes Illustrated for Elementary and Secondary Schools, Building Codes Illustrated for Healthcare Facilities, and Residential Building Codes Illustrated