Building Construction 6th Edition Complete Access Pack with Wiley E-Text, Construction Exercises 6th Edition, and Interactive Resource Center Access Card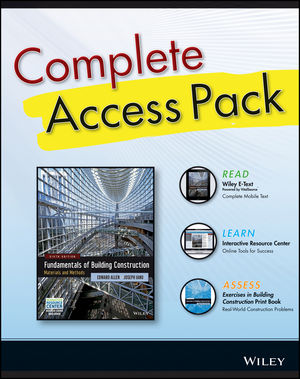 Building Construction 6th Edition Complete Access Pack with Wiley E-Text, Construction Exercises 6th Edition, and Interactive Resource Center Access Card
ISBN: 978-1-118-82114-5
Oct 2013
1 pages
Description
Read
Wiley E-Text
Searchable
Highlight
Take Notes
Collaborate
Access Anywhere, Anytime
Ability to Print
Learn
Interactive Resource Center (IRC)
Animations
Interactive Exercises
Photorealistic Gallery
Supplemental Gallery
Flashcards/Key Terms
Self-Test
Web Resources
Assess
Exercise Book
Available in Print
Real-world Construction Problems
Clear Instructions for Each Exercise
Ample Space to Work out Answers
Perforated to Make Handing in Assignments Easy
Download the E-Textbook
Come to class prepared. Study using the Wiley E-Text on your computer, tablet, or smartphone. Online or off, everything stays in sync. Available on Mac, Windows, iOS, and Android.
Download Now:
Go to: www.vitalsource.com/download
Download the Bookshelf® that is right for your computer.
Follow the installation instructions.
Complete all fields in the Registration Form.
Enter the code found under the pull-tab on the front of this card in the Redemption Code field.
Click the Register button.
Double-click on the downloaded title to open your Wiley E-Text.
Now Make It Mobile:
Download the VitalSource Bookshelf app to your smartphone or tablet.
Prepare for class: anytime, anywhere, on any device.
If you need help, go to support.vitalsource.com.