Building Contract Dictionary, 3rd Edition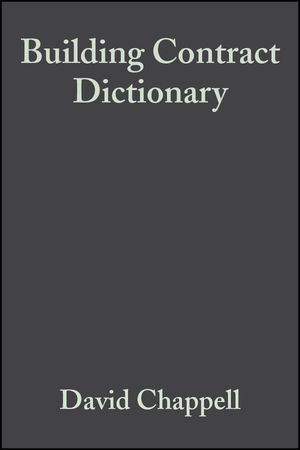 Building Contract Dictionary, 3rd Edition
ISBN: 978-0-470-77994-1 May 2008 Wiley-Blackwell 448 Pages
Description
Building Contract Dictionary provides a succinct, but authoritative reference to words, phrases and terms encountered in, and in connection with, building contracts.




For the new edition all entries have been reconsidered and updated in light of case law and legislation and the book has been substantially enlarged since the last edition ten years ago. There are now over 800 separate entries A wide range of contracts has been referenced, including JCT 98, IFC 98, MW 98, WCD 98, PCC 98, MC 98, ACA 3, GC/Works/1 (1998), NEC, NSC/C, DOM/1, DOM/2 as well as topics such as adjudication, arbitration and the Civil Procedure Rules.




It will provide an invaluable reference for architects, quantity surveyors, project managers and contractors. It will also find a ready readership among all construction lawyers.


"This is an indispensable book which provides a succinct but authoritative reference to "words, phrases and terms" encountered in the construction industry. ...many of the entries give a substantial commentary on a variety of matters you always wanted to know about but never got round to finding out."


Arbitration
A - Z alphabetical listing of terms; Table of cases
"When starting t read law as an undergraduate, the first law book I bought was
Wharton's Law Lexicon
, a book I still have and use. On appointment as an Official Referee, I bought the Penguin dictionaries of
Building, Civil Engineering Architecture
and
Electronics
. If I had known that this book was then in existence in its first edition, I would have bought that also. It would have been an enormous help to me"
Judge Peter Bowsher QC

"Presented in a non-legal and highly-readable style, this book is a desirable addition to the specialist library and the professional office and as a useful reference book is directed to architects, surveyors and construction professionals in general together with contractors and their staff."

Construction Manager
* the only reference of its kind on construction law
* over 800 entries
* well known authors
* features 30 tables of key contract summaries
*
"Buy this super reference book. And when some high barrister mutters a fortiori you can smile - and reply with equal force"
Tony Bingham, Building, February 2002