Building Donor Loyalty: The Fundraiser's Guide to Increasing Lifetime Value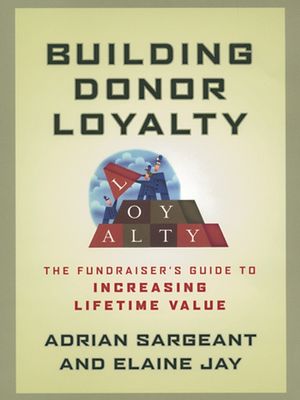 Building Donor Loyalty: The Fundraiser's Guide to Increasing Lifetime Value
ISBN: 978-0-787-97658-3
Oct 2004, Jossey-Bass
250 pages
Description
Building Donor Loyalty is a hands-on guide written for professional fundraisers that outlines the factors that drive donor retention, explains how to keep donors committed to an organization, and offers suggestions for developing donor value over time. It is based on data drawn from a research program which included more than 20,000 nonprofit organizations and was funded by the Aspen Foundation and the Indiana Fund through the Center on Philanthropy at Indiana University. Building Donor Loyalty contains a variety of illustrative case studies that demonstrate the power of effective donor retention strategies and clearly explains each of the factors that can build donor retention. It includes tools and techniques that have proven successful when growing long-term relationships with donors and offers practical advice for fundraisers who want to integrate this knowledge into their own thinking, planning, and practice.
Tables, Figures, and Exhibits.
Preface.
The Authors.
1 Why Does Loyalty Matter?
2 Driving Donor Loyalty.
3 Understanding Giving Behavior.
4 Advancing the Relationship Revolution.
5 Researching What Donors Want.
6 Using Donor Segmentation to Enhance Loyalty.
7 Growing Monthly Giving.
8 Building Effective Fundraising Products.
9 Managing Service Quality.
10 Recognizing and Rewarding Donors.
11 Using Lifetime Value to Inform Retention Strategy.
12 Planning for Retention.
Conclusion: A Call to Action.
References.
Index.
Figure 12.1
The structure we propose for a donor retention plan is presented in the Figure 12.1 PDF. You may view the figure by clicking on the link provided. Figure 12.1 is also found on page 172 of Building Donor Loyalty.

A series of five worksheets are designed to accompany the text and to allow you to explore many of the issues we raise. The worksheets have been designed to mirror the structure of Chapter 12 and build to the outline of a donor retention plan for your organization. You should therefore aim to work through the structure of each in the order that they are presented here. Download the worksheets below.


Download
Worksheet 1.
Donor Retention Plan allows you to gather and restate the mission and organizational objectives for your organization.
Download
Worksheet 2.
The Retention Audit requires you to conduct a retention audit for your organization and poses a series of questions designed to get you thinking about the data that might be relevant to your retention plan. Our list of questions is NOT designed to be exhaustive, merely to offer you some guidance about the data that could be of interest. You should therefore aim to gather any additional data that you think might be relevant to your plan.
Download
Worksheet 3.
The SWOT Analysis allows you to reflect on the data gathered for the retention audit by conducting a SWOT analysis on this material. You should think through whether any of the data you gathered represents a strength, weakness, opportunity, or threat and then prioritize what you regard as being the key points. This is essential if the plan that follows is to address the critical issues facing the organization.
Download
Worksheet 4.
Retention Objectives Having conducted a detailed SWOT analysis—you should then be able to derive meaningful retention objectives for the future and in particular for the duration of your plan. In Worksheet 4, we provide a space for you to consider what these objectives might be.
Download
Worksheet 5.
Retention Strategy and Tactics contains the core of the retention plan, prompting you to consider segmentation, positioning, portfolio management, and the relationship mix that will be adopted with each segment. Here you will outline exactly how each segment on your fundraising database will be developed. You will also be asked to cost these activities and to generate a schedule for the activities that will take place. You will be asked to indicate how you would propose to control your plan.
Download