Building Financial Models with Microsoft Excel: A Guide for Business Professionals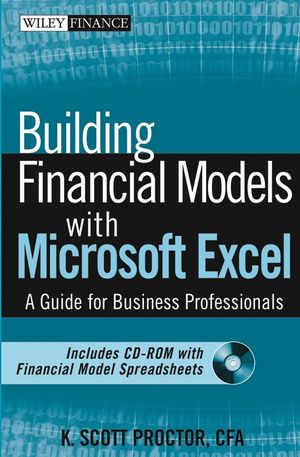 Building Financial Models with Microsoft Excel: A Guide for Business Professionals
ISBN: 978-0-471-69320-8
Oct 2004
347 pages
Description
A comprehensive guide to building financial models
Building Financial Models with Microsoft Excel + CD-ROM provides beginning or intermediate level computer users with step-by-step instructions on building financial models using Microsoft Excel-the most popular spreadsheet program available. The accompanying CD-ROM contains Excel worksheets that track the course of the book and allow readers to build their own financial models. This comprehensive resource also covers important topics such as the concept of valuation, the concept of sensitivity analysis, the concepts of contribution margin and financial ratios and the basics of building and using a Capitalization Table.
K. Scott Proctor, CFA, is the Director of Investor Analytics at SNL Financial, a financial information provider.
Foreword.
Preface.
Acknowledgments.
PART ONE: THE MASTER BUDGET.
Chapter 1. Overview of Budgets and Financial Models.
Chapter 2. Operating Budget—Assumptions, Sales, and Collections.
Chapter 3. Operating Budget—Cost of Goods Sold, Inventory, and Purchases.
Chapter 4. Operating Budget—Operating Expenses.
Chapter 5. Operating Budget—Income Statement.
Chapter 6. Financial Budget—Capital Budget and Cash Budget.
Chapter 7. Financial Budget—Balance Sheet.
PART TWO: FINANCIAL STATEMENTS AND FREE CASH FLOWS.
Chapter 8. Consolidated Financial Statements.
Chapter 9. Free Cash Flows and Dashboard.
PART THREE: ANALYSIS OF A FINANCIAL MODEL.
Chapter 10. Sensitivity Analysis.
Chapter 11. Contribution Margin Analysis.
Chapter 12. Financial Ratios Analysis.
Chapter 13. Valuation.
Chapter 14. Capitalization Chart.
Answers to Chapter Questions.
Appendix: General Overview of Microsoft Excel Features and Functionality.
About the CD-ROM.
Index.
1. STEP-BY-STEP GUIDE TO BUILDING A FINANCIAL MODEL USING EXCEL. Unlike more technical books that require knowledge of VBA, Proctor provides a reference for the beginning or intermediate level computer user.
2. CD-ROM CONTAINS INTERACTIVE SPREADSHEETS that allow readers to build their own financial models as they make their way through the book. By the end of the book, the user will have a fully-functional financial model, which can be used to help plan and build a business, raise financing, or supplement a business plan with quantitative information.
3. COVERS ALL THE NECESSARY ESSENTIALS OF FINANCIAL MODELING for MBA students and CFA exam takers to real world practitioners familiar with Excel.