Building Leverage and Capacity: The Challenge of Growth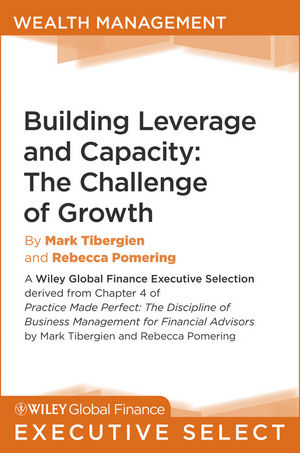 Building Leverage and Capacity: The Challenge of Growth
ISBN: 978-1-118-00658-0
Dec 2010
21 pages
Description
One of the most important strategies for a successful investment advisory or wealth management firm is how to manage growth and profits. Once an advisory firm begins to add any staff, it has started to accelerate its growth. It will need to monitor and measure performance, coach and counsel people, produce an increasing amount of revenue to cover the added overhead, and invest in more technology solutions, office space, and employee benefits. Author Mark Tibergien, named by Investment Advisor as one of the most influential people in the industry, provides a comprehensive analysis of:
Managing the rising costs of an advisory firm

Management and quality control

Client satisfaction

Training staff
Filled with models, statistics, and case studies, this chapter from Practice Made Perfect looks at the client-service approach, infrastructure, and compensation techniques necessary for an advisory firm to grow into an elite practice.
Preface.
Acknowledgments.
Introduction.
1 The Financial Advisory Business.
The View from Here.
2 Strategic Business Planning.
Defining the Direction.
3 Knowing Your Clients.
The Value of Surveys.
4 Building Leverage and Capacity.
The Challenge of Growth.
5 The Fulcrum of Strategy.
Human Capital.
6 The Care and Preening of Staff.
Professional Development.
7 The Payoff for the Firm.
Compensation Planning.
8 The Tools That Count.
Financial Management.
9 Income, Profit, Cash Flow.
(and Other Dirty Words).
10 Referrals and Joint Ventures.
The Search for Solutions.
Afterword.
Appendix.
Index.
"A wealth of useful information. . . . Whether you plan to grow, or maintain a small practice, the insights Tibergien and Pomering provide will give you the necessary tools to manage your practice more effectively." (MorningstarAdvisor.com)