Building People: Sunday Emails from a CEO, Volume 2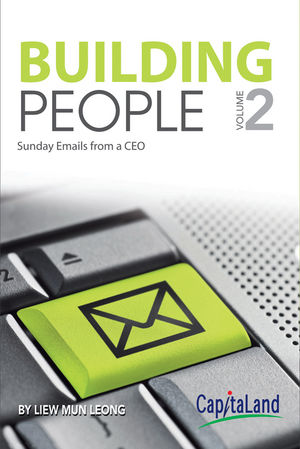 Building People: Sunday Emails from a CEO, Volume 2
ISBN: 978-0-470-82786-4
Dec 2010
200 pages
Description
Quotes from Liew Mun Leong
""The job on top is a lonely one. But if you want to lead, you have to be one of the troops too.""
""If you have the ability to lead, it will be a waste for the company, society and yourself, if you deny that responsibility.""
""If you can't or don't communicate, you can't lead. An uncommunicative leader will not last long.""
""The job makes you. You grow on the job. You can outgrow the job or the job can outgrow you.""
""A fast decision is better than a right decision. But if a fast decision is wrong, it is better to make a U-turn fast. ""
""Human resource is not human capital, unless we invest in it.""
""I was trained as an engineer and wanted to be a good professional engineer. I spent many years doing that. I had never thought of becoming a CEO.""
""Many of the solutions we arrive at are because there are no better alternatives. We know we just have to make them work for us somehow.""
""In solving our many difficult problems, 'application precedes theory'. After we accomplish something, we then begin to think of a theory to explain how and why it works.""
Preface.
Chapter 1 Managing during Turbulent Times.
Managing during Turbulent Times.
Can the Current Global Economic Crisis Change and Improve Our Retail Industry?
2010 New Year Message: We Survived the Cold Winter Year.
British Airways Cancels Flights as T5 Chaos Continues.
Business Times Articles.
Love of Money: The Collapse of Lehman Brothers.
Chapter 2 Instilling Values.
What Should You Tell Your Boss?
Some Good Advice from a Wise Thai Lady.
Observe, Support and Give Your Views!
Enjoy Your Family Holiday But Don't Waste It!
Your Job and You. Is It Cause or Effect?
Can You Sleep Soundly at Night?
There is No Secret to Success.
Thou Shall Be Corruption-Free.
Chapter 3 Leadership and Enterprise.
Responsible Leadership.
Did the Merlion Swallow Furama Hotel?
Entrepreneurial Ideas? Listen, Think and Make a Call.
Who is Responsible for Service Excellence in the Company?
Eulogy for Sim Kee Boon.
Lessons from My First May Day Rally—Tripartism and How to Do Things Cheaper,Better and Faster!
There is No Secret to CapitaLand's Success.
Chapter 4 Work-Life Integration.
What Keeps Me Awake at Night?
Filial Piety—Have You Called Your MotherToday?
Managing My Stress During Turbulent Times.
What is the Most Important Thing in Life?
Chapter 5 Perspectives on China 161
Towards an Asian Renaissance: The Rise of China—A Business Perspective.
But Why China?
Is There a Property Bubble in China?
There is No Stronger Property Market in the World than China.
Encounters in China.
Inner Mongolia—China's Fastest-Growing Province, (But Some Behaviour Must Change).
Getting to Know the Entrepreneurial People of Wenzhou.
Encounter with a Brave Young Girl.
How Do Our Overseas Colleagues See Us?
Give Them a Once-in-a-Lifetime Chance to See the World.
Chapter 6 ICE—Eye-Openers for Lifelong Learning.
Young Turks versus Older Loyalists.
Now for Nonagenarian Wisdom.
What Do Flying an F-16, Making Sushi and Writing Calligraphy Have in Common?
American Idol—More than Just TV Entertainment!
Do We Grow as We Age?
Bird Porn.
Do You Have to Own It to Love It?
Bits and Pieces.
Appendix.
CapitaLand Poised to Ride on Asian Growth.
Bad Times Throw Up Good Opportunities for CapitaLand.
When Times are Bad, Prepare for Good Times.
Building People, Training CEOs.
Index.