Building Strong Nonprofits: New Strategies for Growth and Sustainability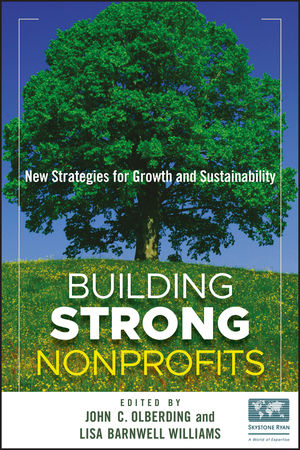 Building Strong Nonprofits: New Strategies for Growth and Sustainability
ISBN: 978-0-470-62748-8
Mar 2010
208 pages
Description
A proven, strategic plan to help your nonprofit emerge from the 2008-2009 economic storm
Utilizing the extensive expertise of leading fundraising consulting firm Skystone Ryan's executive leadership team and managing consultants to explore and illuminate the most timely issues facing the philanthropic community, Building Strong Nonprofits: New Strategies for Growth and Sustainability identifies new opportunities to define the future of philanthropy.
Includes notable contributors from the Skystone Ryan leadership team
Analyzes the most potent trends and developments and interpret their implications for the future of philanthropy
Offers eight to twelve essays, each by a different Skystone Ryan consultant with particular experience, insight, and expertise in the area
Building Strong Nonprofits: New Strategies for Growth and Sustainability is you, whether you are a nonprofit leader, executive director, board member, or development director, and are becoming aware that new organizational strategies are called for if the same old donors are not supportive in the same old ways.
Acknowledgments.
Introduction.
Chapter 1 A New Day for Philanthropy.
The Big Picture.
What Will Be Different.
What Will Not Change.
Conclusion.
Chapter 2 A Person of Influence, A Sculptor of the Universe.
How Women are Changing the Face of Philanthropy.
Women are in the Game.
There's Power in Numbers.
Let's Get Together and Give!
Moving onto the Big Stage.
Who are the Women on Your Team?
Conclusion.
Chapter 3 The New Non-Profit How Human Nature, Business Principles, and Financial Realities are Transforming the Missions, Management, and Finance of Non-profit Organizations.
A Period of Significant Change in the Non-Profit Sector.
Why are Things Changing?
What is Changing?
Conclusion.
Chapter 4 High-Impact Nonprofit-Corporate Partnerships.
Trends in Corporate Giving.
Areas of Corporate Funding Interest.
High-Impact Partnerships: Investing for the Upturn.
Conclusion.
Chapter 5 Casting Your Net into the Social Media Ocean.
What is Social Media?
Social Media by the Numbers.
Planning your Social Media Strategy.
Social Media Tips to Consider.
A Closer Look at Social Media Tools.
Raising Money with Social Media.
Social Media Impact on Search Marketing.
Major Donors in Social Media.
Conclusion.
Chapter 6 All Sails Unfurled Education and Professionalism for Philanthropic Professionals.
Challenges Facing the Career Path Professional.
Lifelong Learning as a Discipline.
The Pursuit of Professionalism.
Conclusion.
Chapter 7 Diversity in Philanthropy: A New Paradigm.
A Primer on African-American Philanthropy.
The Status of Solicitors of Diverse Backgrounds.
A Solution: Institutional Resolve and Commitment.
Developing a Pipeline: Looking to the Future.
Conclusion.
Appendix A Black Philanthropy References.
Appendix B Resources.
Chapter 8 Twenty Years…And Learning.
Beginning from the Beginning.
A Look at the "Big Two": India and China.
Latin America: A Disparate Region.
Diaspora: New Opportunities and Giving Circles.
Conclusion.
Endnotes.
About the Editors.
About the Authors.
Index.