Building Successful Relationships Between Community Colleges and the Media: New Directions for Community Colleges, Number 110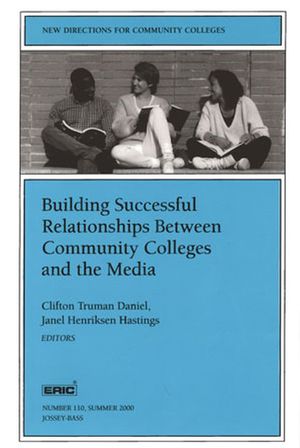 Building Successful Relationships Between Community Colleges and the Media: New Directions for Community Colleges, Number 110
ISBN: 978-0-787-95427-7
Aug 2000, Jossey-Bass
120 pages
Description
Although community colleges play an increasingly important role in the lives of millions of Americans, they often have difficulty maintaining visibility within their communities and keeping students and potential partners aware of their programs. In the face of limited budgets, it is important that community college practitioners turn to one particular resource that can be invaluable for promoting a college's academic programs and services: the media. This volume explores current relationships between two-year colleges and the media across the country, reviewing the history of community colleges' relationships with members of the press, examining the media's relationships with community college practitioners, and offering practical strategies for advancing an institution's visibility. The contributors reveal how to use media outlets ranging from local and regional newspapers to the Internet to promote programs and services. Perhaps most importantly, they offer sound suggestions on establishing lasting, mutually beneficial relationships with members of the media to ensure that both college and media representatives achieve their overall goals of promoting services and educating the public. This is the 110th issue of the quarterly journal New Directions for Community Colleges.
1. Community Colleges and the Media: Defining Identity (Janel Henriksen Hastings).
2. The Importance of Being Honest: Building Relationships Between Media and College Personnel (Clifton Truman Daniel).
3. Building Relationships with the Media: A Brief Working Guide for Community College Leaders (Neal A. Raisman).
4. Community Colleges and the Media: Getting Effective Coverage for Your Institution (Tim Thornton).
5. Community College Advancement Through Relationships with the Newspaper Media (Anthony Marquez).
6. Working with Media Outlets to Communicate with the Public (Mark L. Wallace).
7. Using Demographics and Statistics to Inform Target Audiences (Janel Henriksen Hastings).
8. Making the Case for "Public Journalism"( Lucy Lee).
9. The Media as Teacher: Helping Advisers, Mentoring Young Journalists (Christine Tatum).
10. Your Site or Mine? Courting the Press Along the Information Superhighway (Clifton Truman Daniel).
11. Sources and Information: Media Relations in Community Colleges (Barbara Tobolowsky).