Building Type Basics for College and University Facilities, 2nd Edition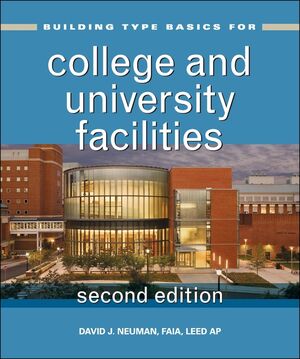 Building Type Basics for College and University Facilities, 2nd Edition
ISBN: 978-1-118-33019-7 June 2013 400 Pages
Description
Essential information for the design of college and university facilities
Building Type Basics for College and University Facilities, Second Edition is your one-stop reference for the essential information you need to confidently begin the planning process and successfully complete the design of college and university buildings, large or small, on time and within budget. Award-winning architect and planner David J. Neuman and a roster of industry-leading contributors share their firsthand knowledge to guide you through all aspects of planning higher education facilities, including learning centers, academic buildings and professional schools, scientific research facilities, housing, athletics and recreation facilities, social and support facilities, and cultural centers. The book combines up-to-date coverage of essential issues related to campus planning, programming, and building design guidelines with detailed project examples.
This new edition offers:
Numerous photographs, diagrams, plans, and sections
Updated project examples, including several buildings completed in the last decade
Up-to-date coverage of sustainability and technology issues
A new chapter on historic preservation, rehabilitation, and adaptive use of existing buildings
New material on the influence of interdepartmental collaboration and renewed communication on the built environment for campuses
This conveniently organized quick reference is an invaluable guide for busy, dedicated professionals who want to get educated quickly as they embark on a new project. Like every Building Type Basics book, it provides authoritative, up-to-date information instantly and saves professionals countless hours of research.
Acknowledgments viii
1. Campus Planning 1
David J. Neuman, FAIA, LEED BD + C
Overview 1
Programs and Plans 9
Campus Plans, District Plans, and Site Plans 17
Sustainability 19
Landscape 22
Architecture 23
Engineering and Operations 31
Special Concerns 34
Globalization and Information Technology 35
Conclusions 36
2. Sustainability, Technology, and Universities 39
David Nelson, Foster + Partners
Economic Growth and Higher Education 40
Constructing the Future University 46
Governance 47
Distance Learning and Its Effects 49
The James H. Clark Center 53
Interactions between Sustainable and Technical Thinking 55
Future Opportunities for Sustainable Universities 64
Economics 66
3. Historic Campus Preservation 69
Stephen J. Farneth, FAIA, LEED AP, Architectural Resources Group
Introduction 69
Preservation, Restoration, Rehabilitation, and Adaptive Use 73
Preservation and Sustainable Design 78
Programming/Predesign Phase 82
Unique Design Concerns 86
Site Issues 88
Accessibility 90
Building Codes 92
Energy/Environmental Improvements 92
Structural Systems 95
Mechanical Systems 95
Electrical/Communication Systems 97
Materials 97
Acoustical Control 98
Lighting Design 98
Interiors 103
Operations and Maintenance 104
4. Libraries and Learning Centers 105
Shirley Dugdale, AIA, Dugdale Strategy
The Changing Learning Experience in the Twenty?]First Century 105
Predesign Planning: Setting the Context 109
Managing the Planning Process 112
Programming 113
Program Components 115
Building and Systems Design 130
Looking to the Future 138
5. Academic Buildings and Professional Schools 139
Graham S. Wyatt, Partner, Robert A.M. Stern Architects
Historical Perspective 139
Role of Academic Buildings on Campus 139
Current Trends 139
Space Programming 140
Room Types 143
Technical Considerations 168
A Closing Thought 177
Acknowledgments 178
6. Interdisciplinary Research Facilities 179
Scott Kelsey and Andrew Labov, CO Architects
The Evolution of Science Teaching and Research Facilities 181
Case Studies: An Evaluation of the Interdisciplinary Research and Teaching Model 182
Teaching/Learning Facilities 190
Research Facilities 196
Planning Building Infrastructure for Interdisciplinary Science 202
7. Housing 219
John Ruble, FAIA, and Jeanne Chen, AIA, Moore Ruble Yudell
Residential Life: Evolving Trends and Underlying Constants 219
An Introductory Guide 221
Program-Specific Concerns 221
Residential Community: Key Concepts 222
Delivery Options: The Programming/Design/Procurement Process 229
Site Planning 230
Housing Formats: Residential Interiors Planning 231
Campus Dining: Accommodating Choice and Style 233
Recreational Amenities: The 24/7 Student Life 235
Housing Fabric: Setting Performance Criteria 236
8. Athletic and Recreational Facilities 259
David Body, FAIA, RIBA, Cannon Design
Shifting Trends in Sports and Fitness 259
Athletics, Recreation, Intramurals, and Club Sports 263
Facilities 265
Process 292
9. Social and Support Facilities 301
Brenda A. Levin, FAIA, Levin & Associates
History 301
Trends 303
Identifying the Site 306
Developing the Program 310
Project Management 314
Key Design Considerations 315
Site Considerations: Landscape and Parking 325
Systems and Infrastructure 326
Sustainability and Environmental Design 329
Interior Issues 331
International Challenges 334
Operation and Maintenance 334
Key Cost Factors 335
Finances, Fees, and Feasibility 335
10. Cultural Centers: Music, Theater, Dance, and Visual Arts Facilities 339
William L. Rawn, FAIA, LEED AP, and Clifford V. Gayley, AIA, LEED AP, William Rawn Associates, Architects, Inc.
Introduction 339
Campus Scale 340
Building Scale 344
Room Scale 354
Index 379