Building Your Direct Mail Program: Excellence in Fund Raising Workbook Series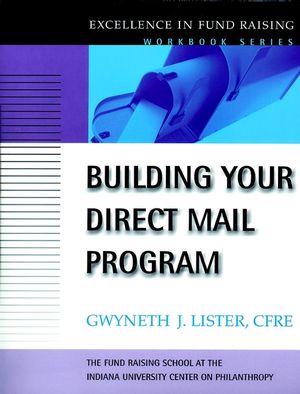 Building Your Direct Mail Program: Excellence in Fund Raising Workbook Series
ISBN: 978-0-787-96007-0
Mar 2004, Jossey-Bass
112 pages
Description
In Building Your Direct Mail Program—part of Excellence in Fundraising Workbook Series—Gwyneth J. Lister provides the tools you need to make direct mail programs as effective and efficient as possible. With material tailored for volunteers and professionals who have little or no experience with direct mail, Lister walks you step-by-step through the process of creating a strong direct mail program. Filled with handy worksheets, checklists, and tips for avoiding the most common pitfalls, the book takes you through the process from start-to-finish--from knowing who should receive the direct mail package and working with list brokers, to creating and budgeting the package and evaluating the results.

In addition, Lister provides specific tips and strategies throughout all phases of the direct mail process, including guidelines for projecting mailing costs, advice on determining when it is most effective to use a direct mail campaign, suggestions for testing direct mail packages, and more. Nonprofit fund raisers, professionals, consultants, and managers will find Building Your Direct Mail Program an invaluable guide to developing one of the key fund raising tools of any organization--a successful direct mail program.
Understanding Direct Mail Fund Raising.

Creating Your Case for Support.

Identifying Your Donors.

Building Your Donor Base.

Assembling the Direct Mail Package.

Planning Your Mailings.

Assessing Your Costs.

Testing and Evaluating Your Direct Mail Efforts.

Thanking Your Donors.

Putting It All Together.

Resources.
""Following the steps in this workbook will enable you to use direct mail effectively in building a broad base of donors. Lister's long and varied experience will help novice and experienced professionals alike.""
—Kim Klein, publisher, Grassroots Fundraising Journal
""When I started volunteering more than twenty-five years ago, I had very few resources to help me be a successful direct mail fund raiser. If I had Building Your Direct Mail Program then, I know I could have doubled the money we raised. This book will give any nonprofit a clear, easy plan to follow that will make their direct mail campaign a success.""
—Ann Cameron, banker and volunteer board president, La Clinica de la Raza
""Yes! Volunteers and professionals alike are taken on a step-by-step process that actually moves you by leaps and bounds toward accomplished direct mail practice.""
—Skip Henderson, fund raising teacher, University of San Francisco and Indiana University's Fund Raising School