Building Your Own Home For Dummies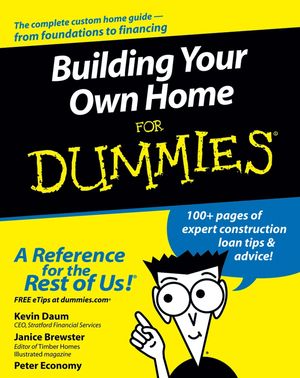 Building Your Own Home For Dummies
ISBN: 978-1-118-05406-2
Mar 2011
384 pages
Description
Keep construction on track with helpful checklists

Turn your dream of a custom home into reality!

Thinking about building your own home? This easy-to-follow guide shows you how to plan and build a beautiful home on any budget. From acquiring land to finding the best architect to overseeing the construction, you get lots of savvy tips on managing your new investment wisely -- and staying sane during the process!

Discover how to:
* Find the best homesite
* Navigate the plan approval process
* Obtain financing
* Hire the right contractor
* Cut design and construction costs
* Avoid common mistakes
Introduction.
Part I: Getting Started: The 411 on Custom Home Building.
Chapter 1: The Custom Home Process in a Nutshell.
Chapter 2: Preparing for the Process.
Chapter 3: The Land Grab: Selecting the Perfect Site.
Chapter 4: Defining Your House Style.
Chapter 5: Architects and Design: Time Spent Is Money Saved.
Chapter 6: Engineering and Plan Approval: Bureaucracy Made Somewhat Easy.
Part II: All You Need Is Dough: Financing Your Custom Home.
Chapter 7: Cash Is King: Using Debt to Your Advantage.
Chapter 8: Knowledge Is Power: What You Don't Know About Construction Loans Can Hurt You.
Chapter 9: Qualifying: It's the Bank's Way or the Highway.
Chapter 10: Show Me the Money.
Part III: Hammers and Nails: The Construction Process.
Chapter 11: All the King's Men: The Contractor and His Cohorts.
Chapter 12: Excavation and Foundation: Getting a Solid Start.
Chapter 13: Framing and Rough: So Much Goes Behind Those Walls!
Chapter 14: Heading for the Finish: So Much Detail.
Part IV: All the After Stuff.
Chapter 15: Home Sweet Nest Egg: Moving In and Managing Your New Investment.
Chapter 16: Refinancing: More Money, Cheaper Payments.
Chapter 17: Taking It Outside: The Art of Landscaping.
Part V: The Part of Tens.
Chapter 18: Ten Common Custom Home Mistakes and How to Avoid 'Em.
Chapter 19: Ten Great Ways to Lower Construction Costs.
Chapter 20: Ten Common Stuck-in-the-Middle Problems and Their Fixes.
Chapter 21: Ten Helpful Custom Home Resources.
Chapter 22: Ten Ways to Make Your Home Green.
Index.