Building a Profitable Online Accounting Practice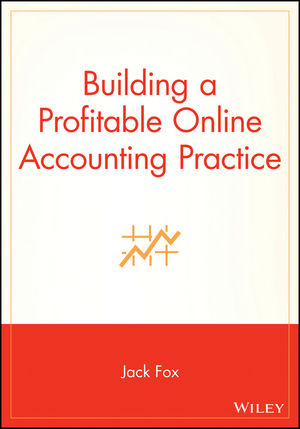 Building a Profitable Online Accounting Practice
ISBN: 978-0-471-40308-1
Jan 2001
360 pages
Description
The first complete guide to taking advantage of the huge and growing market for Internet accounting services for small businesses
The Internet provides accountants with exciting new opportunities for expanding their practices by affording them unprecedented access to the huge small business market. The first comprehensive book on the subject, this book describes proven strategies for creating a thriving virtual accounting practice. Expert Jack Fox presents in-depth coverage of the various accounting and consulting services that accountants can offer to small business owners via the Internet. He describes successful techniques for identifying potential clients and packaging and marketing services, and arms readers with a complement of valuable tools for helping them get started in virtual accounting, including detailed business plans, numerous tables, forms, checklists, and connections with leading virtual accounting service providers.
Preface.

Online Virtual E@CCOUNTING (TM).

The Small to Medium-Sized Accounting Services Market Opportunity.

Business Plan Development and Implementation.

The Online Virtual Accounting Practice.

Getting Connected and Other Logistics of Providing Online Services.

Internet Networking Operating Systems.

Accounting Software Online and Off.

Application Software Providers.

Information Technology: The Currency of Online Practice Development.

Databases, Data Warehouses, and Data Marts.

Data Mining, Document Management, and Storage.

Business Intelligence and Knowledge Management.

Assessing the Possibilities and Planning for a Successful Online Accounting Practice.

Identifying Goals: Laying the Practice Foundation.

Practice Strategies and Structure.

Marketing Foundations: Developing an Accounting Firm Brand.

Internet, Database, and Target Niches: Marketing Guide.

Partnering: Profiles in Profitability: Accounting Partnership Resources Compendium.

Team Building and Retreats.

Appendix: The Accounting Guild and E@CCOUNTING (TM): Seminars, Consortium, Training, and Consulting.

Glossary.

Index.

About the Author.