Building a Web Site For Dummies, 3rd Edition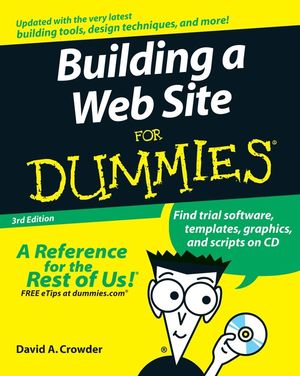 Building a Web Site For Dummies, 3rd Edition
ISBN: 978-0-470-23140-1
Sep 2007
408 pages
Product not available for purchase
Description
Whether you're in the preliminary stages of planning a site or you're looking to improve the look of an existing site, this reference book covers it all. Now updated with the latest site tools, design techniques, and commerce options, this new edition of the bestseller offers a solid framework for building a Web site from scratch. Packed with all the essentials to help make your site the best it can be, this resource goes beyond just basic design and page building to show you how to incorporate both of those elements into a successful site.

Veteran author David Crowder spills the secrets to planning and creating an effective site from the ground up. You'll decipher ways to transform a bunch of seemingly random web pages into a coherent web site and you'll discover myriad ways to make your site look and sound amazing.

This updated third edition features content on designing with CSS, using the latest version of Dreamweaver, and applying Web analytics and promotion techniques. In addition, the book covers topics such as:
Keeping a site fresh and exciting
Designing a look that appeals to your intended audience
Determining your Web page structure
Incorporating color, images, graphics, music, and video
Merging CSS and HTML
Planning usable navigation
Providing guestbooks and message boards
Designing for e-commerce
Getting set up with PayPal, Google Checkout, E-cash, etc.
The accompanying CD-ROM provides trial versions of software that is used in the book as well as sample templates and graphics for Web building. Once you start referring to Building a Web Site For Dummies, 3rd Edition, you'll wonder how you ever existed without this invaluable information!
Note: CD-ROM/DVD and other supplementary materials are not included as part of eBook file.
Introduction.
Part I: Planning and Designing Your Web Site.
Chapter 1: The Zen of Sites.
Chapter 2: Pouring the Foundation.
Part II: Building Your Site.
Chapter 3: Web Page Construction 101.
Chapter 4: Working with WYSIWYG.
Chapter 5: Cascading Style Sheets.
Chapter 6: Designing for Site Navigation.
Part III: Adding Sparkle to Your Site.
Chapter 7: Getting Graphic.
Chapter 8: Plugging In Scripts and Applets.
Chapter 9: Web Sights and Sounds.
Part IV: From Blogs to Toons — Good Content Makes Contented Visitors.
Chapter 10: Letting 'Em Have Their Say.
Chapter 11: Bloggin' the Night Away.
Chapter 12: Using Content Providers.
Part V: Raking In the Bucks.
Chapter 13: Stalking the Wild Dollar: Internet Commerce.
Chapter 14: Kaching! Kaching! Gettin' Paid.
Chapter 15: Examining Affiliate Programs.
Part VI: Publishing and Publicizing Your Site.
Chapter 16: Letting the World In: Choosing a Host and Domain Name.
Chapter 17: Publicizing Your Site.
Chapter 18: Web Aerobics: Tuning Up Your Site.
Chapter 19: Keeping in Touch with Visitors.
Part VII: The Part of Tens.
Chapter 20: Ten Great Places to Get Advice.
Chapter 21: Ten Fabulous Tools for E-Commerce.
Chapter 22: Ten More Great Add-Ins.
Part VIII: Appendixes.
Appendix A: Glossary.
Appendix B: About the CD.
Index.