Building an Import / Export Business, 4th Edition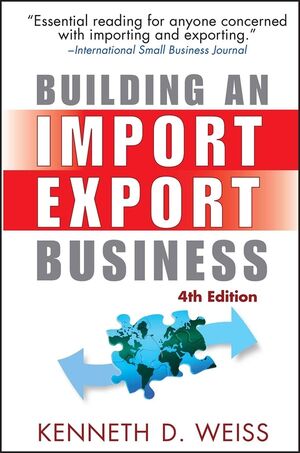 Building an Import / Export Business, 4th Edition
ISBN: 978-0-470-12047-7
Dec 2007
320 pages
Description
This bestselling, up-to-date guide shows you how to start your own import/export business, from researching a raw idea to a successful launch to ongoing, profitable business operations. Complete with real-life examples from importers and exporters, it helps you every step of the way, from targeting a market and preparing a business plan to dealing with foreign currencies, shipping procedures, customs requirements, and more. It also shares tips to help you take advantage of NAFTA and other trade pacts, plus online resources to help you start and grow your business.
List of Illustrations. Acknowledgements. Introduction.
1. Your Big Idea: Is It Any Good?
Importing Handcrafts from
Ecuador
. Exporting Hardware. Importing "World Clocks". Exporting Printer Paper. Brokering Computer Equipment.
2. Is This Business for You?
Have You Failed Yet?. How is your Financial Situation? Interest in and Knowledge of the World. Familiarity with Foreign Languages and Cultures. Persistence, Patience and Judgment. Attention to Detail. Contacts with Buyers of the Ability to Make Them. Twenty Important Questions. Import Merchant Example. Export Agent Example.
3. Setting up Your Business.
Forms of Organization. Your Trade Name and Logo. Opening a Bank Account. Setting up Your Office. Stationery and Printing Needs. Accounting and Taxation. Obtaining Financing.
4. Beginning with a Buyer.
Why someone would Buy from You. What Value Means to your Customer. Attracting Customers--some Examples. Finding Buyers as an Importer. Finding Buyers as an Exporter.
5. Choosing Products and Suppliers.
Finding Products to Import. Getting Samples, and Testing them in the USA. Finding Foreign Suppliers. Selecting Foreign Suppliers. Finding Products to Export. Lining up Suppliers. The Formal Supply Agreement. Protecting your Interest.
6. Marketing in the United States and Abroad.
So, What is Marketing Marketing Imports. Marketing Exports.
7. Money Matters.
Credit Decisions on Suppliers and Customers. Methods of Payment in International Trade. Export Credit and Credit Insurance. Foreign Currency Transactions. Countertrade.
8. Packing, Shipping and Insurance.
Packing for International Shipment. After you Pack it, Mark it. International Transportation. Shipping Terms. Marine Insurance. Brokers and Forwarders.
9. Oh, Those Lovely Documents.
Commercial Documents. Banking Documents. Transportation and Insurance Documents. Government Formalities Documents. A few more Thoughts on Documents.
10. Regulation of Foreign Trade.
U.S. Customs and Border Protection. Getting Deeper into Customs. Other Federal Regulations. State and Local Regulations. Regulation of Exports.
11. NAFTA, GATT and Other Trade Pacts.
Trade Agreements. Preferential Arrangements.
12. Sources of Information and Help.
Appendix A: Sample Market Study Outline. Appendix B: Guidelines for Business Planning. Appendix C: Possible Sources of Financing for Your Business. Appendix D: Sample Supply Agreements. Appendix E: U.S. Export Assistance Centers. Appendix F: Avoiding Import/Export Scams. Notes. Index.