Building and Managing Virtual Private Networks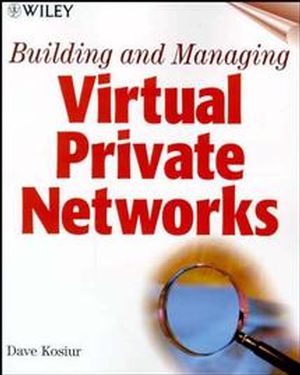 Building and Managing Virtual Private Networks
ISBN: 978-0-471-29526-6
Oct 1998
416 pages
Product not available for purchase
Description
Everything you need to know about selecting, designing, building, and managing the right VPN for your company Building and Managing Virtual Private Networks Get complete answers to all your VPN questions in Building and Managing Virtual Private Networks. International networking guru Dave Kosiur provides a candid assessment of the current state of VPN technology. With the help of fascinating and informative case studies based on the experiences of organizations at the forefront of the VPN revolution, he clearly explains the basic concepts and technologies involved, as well as the business reasons for making the switch to an Internet-based network. And he provides practical guidance on all aspects of designing, building, and managing the best VPN for your organization. You get the complete lowdown on:
* The pros and cons of all VPN types now available
* All major classes of VPN hardware and software
* Key VPN design issues and business solutions
* Detailed cost comparison
* Selecting the right ISP for your VPN
* Building a high-performance extranet
* Remote access
* VPN security threats and solutions, including best-in-class cryptographic techniques
* Firewalls and routers
THE INTERNET AND BUSINESS.

Business on the Internet.

Virtual Private Networks.

A Closer Look at Internet VPNs.

SECURING AN INTERNET VPN.

Security: Threats and Solutions.

Using IPSec to Build a VPN.

Using PPTP to Build a VPN.

Using L2TP to Build a VPN.

Designing Your VPN.

BUILDING BLOCKS OF A VPN.

The ISP Connection.

Firewalls and Routers.

VPN Hardware.

VPN Software.

MANAGING A VPN.

Security Management.

IP Address Management.

Performance Management.

LOOKING AHEAD.

Extending VPNs to Extranets.

Future Directions.

Appendices.

Glossary.

Index.