Building and Managing the Meta Data Repository: A Full Lifecycle Guide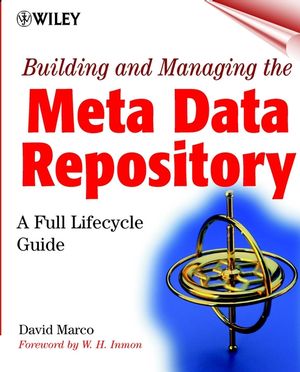 Building and Managing the Meta Data Repository: A Full Lifecycle Guide
ISBN: 978-0-471-35523-6
Jul 2000
416 pages
Description
"This is the first book to tackle the subject of meta data in data warehousing, and the results are spectacular . . . David Marco has written about the subject in a way that is approachable, practical, and immediately useful. Building and Managing the Meta Data Repository: A Full Lifecycle Guide is an excellent resource for any IT professional." -Steve Murchie Group Product Manager, Microsoft Corporation

Meta data repositories can provide your company with tremendous value if they are used properly and if you understand what they can, and can't, do. Written by David Marco, the industry's leading authority on meta data and well-known columnist for DM Review, this book offers all the guidance you'll need for developing, deploying, and managing a meta data repository to gain a competitive advantage. After illustrating the fundamental concepts, Marco shows you how to use meta data to increase your company's revenue and decrease expenses. You'll find a comprehensive look at the major trends affecting the meta data industry, as well as steps on how to build a repository that is flexible enough to adapt to future changes. This vendor-neutral guide alsoincludes complete coverage of meta data sources, standards, and architecture, and it explores the full gamut of practical implementation issues.Taking you step-by-step through the process of implementing a meta data repository, Marco shows you how to:
- Evaluate meta data tools Build the meta data project plan
- Design a custom meta data architecture
- Staff a repository team
- Implement data quality through meta data
- Create a physical meta data model
- Evaluate meta data delivery requirements

The CD-ROM includes:
- A sample implementation project plan
- A function and feature checklist of meta data tool requirements
- Several physical meta datamodels to support specific business functions

Visit our Web site at www.wiley.com/compbooks/

Visit the companion Web site at www.wiley.com/compbooks/marco
LAYING THE FOUNDATION.

Introducing Meta Data and Its Return on Investment.

Meta Data Fundamentals.

Meta Data Standards.

IMPLEMENTING A META DATA REPOSITORY.

Understanding and Evaluating Meta Data Tools.

Organizing and Staffing the Meta Data Repository Project.

Building the Meta Data Project Plan.

Constructing a Meta Data Architecture.

Implementing Data Quality through Meta Data.

Building the Meta Model.

Meta Data Delivery.

The Future of Meta Data.

Appendices.

Glossary.

What's on the CD-ROM?

Index.
"Here is a book which offers you and your company all the guidance you'll need for developing, deploying and managing a data repository in order to gain competitive advantage." (Freelance Informer, 24th November 2000)