Building and Renovating Schools: Design, Construction Management, Cost Control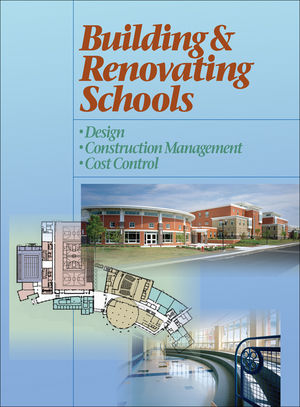 Building and Renovating Schools: Design, Construction Management, Cost Control
ISBN: 978-0-876-29740-7
May 2004
412 pages
Description
This all-inclusive guide to building and renovating schools covers every step of the process – from initial planning, needs assessment and design, right through moving into the new facility. An essential resource for anyone concerned with new school construction or renovation, including architects and engineers, contractors and project managers, facility managers, school administrators and school board members, building committees, community leaders, and anyone else who wants to ensure that the project meets the schools' needs in a cost-effective, timely manner.

The contributors to this book – architects, construction project managers, contractors, and estimators who specialize in school construction – provide start-to-finish, expert guidance on the process.

FEATURES:

Includes guidance on:
Planning and design 
Selecting a design team
Green design standards and technologies
Integrating computer and building automation technology
Security equipment, design approaches and cost issues
Design considerations for specialty spaces like performing arts centers, library/media centers, computer labs, and science and art classrooms.
Acknowledgments.
About the Authors and Contributors.
Introduction.
Part I: Planning & Design.
Chapter 1: Programming and Pre-Design.
The Need for Programming and Pre-Design.
Procurement of Facilities Planning and Architectural Services.
Community Participation.
The Planning Study.
Development of a Facility Space Program.
Analysis of Existing Conditions of School Facilities.
Preparing an Information Database for Planning.
Development of Planning Solutions.
Preparation of a Facility Planning Document.
Project Timeline.
Implementation.
Case Study.
Selection of a Design Team: Architect and Engineers.
Conclusion.
Chapter 2: Green Design.
The History of Green Design.
The Importance of Green Design for Schools.
Terminology.
Standards.
Economics of Green Design.
How to Implement Green Design.
Green Design Technologies.
Case Studies.
Conclusion.
Chapter 3: Integration of Technology.
Technology Integration Defined.
Integration of Technology into a School Design.
The Technology Infrastructure: The Network.
Developing Technology Trends in Education: Moving from Pilot Programs to Mainstream.
Case Study.
The Transformation of a School.
Conclusion.
Chapter 4: Integration of Security.
Social Background of School Security Issues.
Risk Analysis.
Components of a Security Incident.
Security Design Strategies.
Physical and IT Security.
Auditing a School Facility.
Security Through Environmental Design.
Physical Security Through Technology.
IT Security.
Technology Integration.
Conclusion.
Chapter 5: Specialty Spaces.
Schools as Community Resources.
Sports Facilities.
Performing Arts Centers.
Libraries/Media Centers.
Vocational-Technical Education.
Computer Labs and Training Rooms.
Language Labs.
Science Classrooms.
Art Classrooms.
Project Rooms.
Conclusion.
Part II: The Construction Process.
Chapter 6: Cost Estimating.
Organizing the Estimate: Work Breakdown Structures.
Contractor Estimates vs. Owner Estimates.
Order of Magnitude Cost Estimates.
Occupant Unit Cost Estimates.
Square Foot Cost Estimates.
Assemblies Cost Estimates.
Unit Price Estimates.
Contingency.
Historical Cost Data.
Change Order Cost Estimates.
Reviewing Estimates Prepared by Others.
Special Considerations in Estimating School Projects.
Cost Impacts on Government-Funded Schools.
Urban Schools.
Alternative Construction Approaches.
Preservation of Older Schools.
Green Building Costs.
Value Engineering and Life Cycle Cost Evaluation.
Case Studies.
Conclusion.
Chapter 7: Scheduling a School Construction Project.
Types of Schedules.
Schedule/Cost Integration.
Practical Schedule Applications.
Schedule Variations and Purposes.
The Schedule Review Process.
Monitoring Job Progress: The Three Steps.
Using the Schedule for Progress Payments.
Key Scheduling Issues for Schools.
Scheduling Software.
Conclusion.
Chapter 8: Types of Contracts and Contractor Selection.
Contracts.
The Selection and Award Process for Construction Contracts.
Financial Risks Associated with Construction Projects.
Project Delivery Methods.
The Selection Process.
Qualifying Firms for Construction and Related Work.
Conclusion.
Chapter 9: The Importance of Project Management.
Why Project Management?
Selecting a Project Manager.
Duties of a Project Manager (PM).
Conclusion.
Chapter 10: Managing the School Construction/Renovation Process.
The Project Team.
Project Expectations Workshop.
Project Meetings.
Phasing Plan for Construction.
Project Turnover.
Managing the Move.
Conclusion.
Part III: Case Studies of Completed School Projects.
Part IV: School Construction Costs.
Glossary.
Resources.
Index