Building the Successful Veterinary Practice, Volume 1, Leadership Tools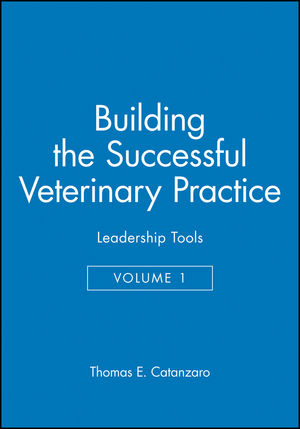 Building the Successful Veterinary Practice, Volume 1, Leadership Tools
ISBN: 978-0-813-82819-0 February 1997 Wiley-Blackwell 180 Pages
Description
This is the first volume of a multi-volume set of veterinary practice leadership and management resources. Veterinarians will discover the concepts and tools that can enable them to help the staff in their practices develop into a team, one that eagerly responds to changes in the marketplace and is committed to improvement.
Catanzaro has written in pragmatic terms about: the attitudes that promote a sense of teamwork; evaluating and developing your own leadership skills; the structure of a successful group; communication techniques; and Continuous Quality Improvement--all with an eye on the special circumstances and dynamics within veterinary practices. Appendices include a glossary of terms, leadership calibration instruments, summary leadership skill sessions, and suggestions for additional reading. The next volume in the series will address key programs to enhance net income.
Table of contents
Introduction; Nurturing Your Leadership Competencies; Skill Is Not Enough; The Competencies Iceberg; Redesigning Leadership; Review; Chapter One The Foundation: Attitude of a Leader; Definition of a Team Player; Personal Roles in the Team; Listening Skills; How to Build a Team; The Infinity Model; The Values of Granddad; Review; Chapter Two The Framework: Skills of Leadership; Definition of Leadership; Traits of Leadership; Leadership Principles; Leadership Skills for Veterinary Practices; Evaluating Your Leadership Qualities (LQ); Commitment; OTeam TPRO Evaluation Survey; The Framework Flow; Review; Chapter Three Closing in the Structure: The Glue to Hold It Together; Styles of Leadership; The Leader?s Management Checklist; Designing Recognitions and Rewards; The Importance of Effective Communication; Planning Should Mean Putting It Together Right; A New Method for Staff Evaluation; Review; Chapter Four Inside Finishing: Sharing the Vision and Power with Others; Continuous Quality Improvement; The Pillars of CQI Excellence; The Only Constant Is Change; Three-Stage Planning Process; Abuse and Neglect of the CQI Process; Quality Transformation; CQI Checklists; Value Management with Continuous Quality Improvement; Review; Appendix A; Leadership Calibration Instruments; Appendix B.
Leadership Skills Handout