Business, 1e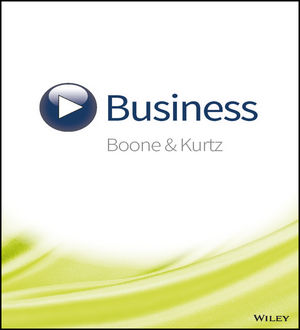 Business, 1e
ISBN: 978-1-119-17159-1
Feb 2016
1 pages
Description
Developed for the Introductory Business course, this digital program is focused on aiding critical thinking, conceptual understanding, and application of knowledge. Real-life video stories in each section allow for stronger application of the content, ensuring that students understand the relevance to their lives and future careers.
PART 1 Business in a Global Environment
1 The Changing Face of Business 1
2 Business Ethics and Social Responsibility 17
3 Economic Challenges Facing Contemporary Business 33
4 Competing in World Markets 51
PART 2 Starting and Growing Your Business
5 Small Business and Forms of Business Ownership 67
6 Starting Your Own Business 83
PART 3 Management: Building Organizational Capability for Superior Performance
7 Management, Leadership, and the Internal Organization 99
8 Human Resource Management: From Recruitment to Labor Relations 115
9 Top Performance through Empowerment, Teamwork, and Communication 131
10 Production and Operations Management 147
PART 4 Marketing Management
11 Customer-Driven Marketing 163
12 Product and Distribution Strategies 179
13 Promotion and Pricing Strategies 195
PART 5 Managing Technology and Information
14 Using Technology to Manage Information 211
PART 6 Managing Financial Resources
15 Understanding Accounting and Financial Statements 227
16 The Financial System 247
17 Financial Management 261
Glossary 275
Notes 286
Name Index 294
Subject Index 300
International Index 311
Videos highlighting the academic authors coach students through various topics using memorable examples & study tips. Each chapter also features a business professional who tells a story about a real business situation, showing students how the material relates to their future careers. Video "storytelling" is enhanced by other engaging visual elements - such as graphics, definitions, and quotations - to activate students' curiosity and deepen their understanding of the material. By assigning these section-opening videos, instructors make the content personally relevant to students which increase their motivation in the course.
Interactive Concept Presentation - this video player tool includes a special editor feature that allows instructors to CUSTOMIZE their course by adding their own questions, comments, and even videos.
ORION adaptive practice - WileyPLUS Learning Space also includes ORION - integrated, adaptive practice that helps students build their proficiency on topics and use their study time most effectively.