Business, The Universe and Everything: Conversations with the World's Greatest Management Thinkers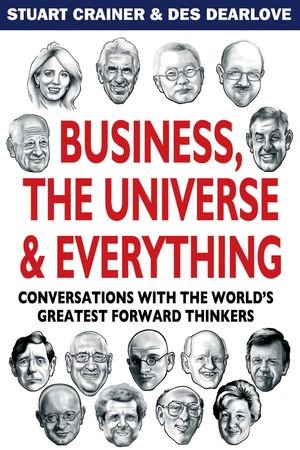 Business, The Universe and Everything: Conversations with the World's Greatest Management Thinkers
ISBN: 978-1-841-12605-0 May 2004 Capstone 160 Pages
Description
A book of ideas on the future of business from some of the most brilliant and compelling minds of today and tomorrow.
* Written by bestselling authors of Leadership the Sven-Goran Erikkson Way and the Financial Times Handbook of Management. They are also founders of the successful UK company Suntop Media.
* First-hand material from the world's top management thinkers.
Preface.
Acknowledgements.
About the Authors.
Section 1: Leading the Way.
Warren Bennis: Geeks, geezers and beyond.
Rosabeth Moss Kanter: Teaching cowboys Confucius.
Manfred Kets de Vries: The dark side of leadership.
John Kotter: In the field.
Daniel Goleman: Maxed emotions.
Section 2: Selling the Future.
Peter Schwartz: Thinking the unthinkable.
Watts Wacker: Fringe benefits.
John Patrick: The attitude thing.
Charles Handy: Reflections of a reluctant capitalist.
Philip Kotler: Marketing in the digital age.
Section 3: People Power.
Derrick Bell: The ardent protestor.
Jonas Ridderstråle: Emotional capital.
Leif Edvinsson: The context's the thing.
Tony Buzan: Brain power.
Marshall Goldsmith: Coaching for results.
Kjell Nordström: Tribal gathering.
Tom Stewart: Intellectual capitalist.
Section 4: Strategic Wisdom.
Gary Hamel: The radical fringe.
Costas Markides: Escaping the jungle.
James Champy: What re-engineering did next.
W Chan Kim and Renée Mauborgne: Strategic moves.
Henry Mintzberg: Searching for balance.
Sumantra Ghoshal: The rise of the volunteer investor.
Index.
"…Each chapter provides a pithy and eclectic mix of a management guru's latest thoughts…" (Management Today, February 2004)