Business Agility: Sustainable Prosperity in a Relentlessly Competitive World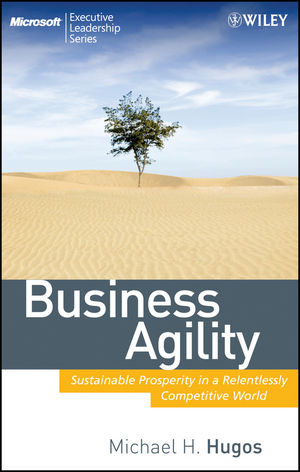 Business Agility: Sustainable Prosperity in a Relentlessly Competitive World
ISBN: 978-0-470-45506-7
Mar 2009
208 pages
Description
The relentless pursuit of industrial efficiency no longer yields the profits it once did because it requires a level of business predictability that no longer exists. Instead, the Internet and global video and telecom systems provide a massive and continuous flow of data that causes the whole world to behave like a giant stock market, with all the volatility and uncertainty that goes along with such markets. Responsiveness now trumps efficiency.

By being responsive to the evolving needs and desires of specific groups of customers, companies can wrap their products and services in a tailored blanket of value-added services to consistently earn an additional four percent or more gross margin than they would otherwise earn for the product or service alone. This customer and market specialization is the most promising and the most sustainable source of profits in our fluid, real-time economy.

Part of the Microsoft Executive Leadership Series, Business Agility discusses the three fundamental process loops that drive an agile enterprise and how they work together to deliver the responsiveness that generates profits in a high-change economy. Providing strategies for innovative and pragmatic use of people, process, and technology to drive operations in an agile enterprise, this book reveals the principles of the agile enterprise, backed by real-world case studies from the author's own experience.

Michael Hugos is a speaker, writer, and practitioner in IT and business agility, and agile system development methods. He writes a column for Computerworld and a blog titled "Doing Business in Real Time" for CIO magazine.
1. Responsiveness Trumps Efficiency.
The World Behaves Like A Stock Market.
Efficiency Is Only Half of the Equation.
Traditional Business Models Are Coming Up Short.
Efficiency Without Responsiveness Will Kill Your Company.
Customer Relationships Are the Most Valuable Asset.
The Value-Added Paper Cup.
A Most Amazing Innovation.
Using Information Technology to Make Money.
All Products and Services Have Two Components.
Notes.
2. Generating Alpha.
Valued-Added Services and Entrepreneurial Employees Generate Alpha.
Escape from the Trap of Commoditized Jobs.
Welcome to the First World – Now Your Labor Rates Are Too High.
New Opportunities to Create Value.
Responsiveness Enables A Higher Standard of Living.
Fix the Opportunity Gap.
Profit Potential of the Self-Adjusting Feedback Loop.
Toward a Responsive Business Operating Strategy.
Use People and Computers Each for Their Strengths.
Notes.
3. Principles of the Responsive Organization.
More Coordination, Less Control.
End of Control As We Know It – The Dyanmics of Swarming.
Leadership for the Responsive Organization.
Dynamics of the Responsive Organization.
Structure of the Resposive Organization.
Notes.
4. Speed, Simplicity, and Boldness.
Five Themes from The Art of War.
Insights from People Who Have Been There.
Observe – Orient – Decide – Act.
Maneuver Warfare.
Modern Warfighting.
Notes.
5. Strategically Focused, Tactically Responsive.
Awareness Drives Effective Strategy (Loop 1).
Balancing Means Continuous Improvement (Loop 2).
Agility Means Move It or Lose (Loop 3).
Reinforcing Feedback for Creating Something New.
Pulling It All Together.
A Formula to Measure Business Responsiveness.
Thoughts on a Formula for Business Responsiveness.
Serious Games.
Notes.
6. Thriving in a Competitive, Fast-Paced World.
Leadership in the Old World and the New.
Agility and Innovation Are Related to Leadership Practices.
Three Applications with Great Potential.
Principles of Combined Arms Applied to Business.
A Supply Chain Game.
Agile Systems for Responsive Operations.
IT Agility Enables Business Innovation.
Notes.
7. Ya Gotta Wanna.
We Are Capable of Great Things.
Executive Behavior Defines the Workplace.
Thoughts on the Practice of Agility.
Agile Is Not Easy.
The 30-Day Blitz, IT Agility in Action.
Agility Means Simple Things Done Well, Not Complex Things Done Fast.
Agility Has a Tempo that Ebbs and Flows.
Notes.
8. The Essence of Innovation.
How to Get Inspired.
The Challenge of Making Something New.
Art, Sports, and Business All Blend Together.
Innovation is a Constant Mixing of Ideas.
Picture of a Responsive Company.
Five Key Characteristics of the Responsive Organization.
Sustainable Prosperity.
Appendix A. Executive Checklist For Monitoring Development Projects.
1. Goodness of System Design.
2. Progress Made Developing the System.
3. Competence and Confidence of People on the Project.
Notes.
Appendix B. Seven Strategic Guidelines For Designing Systems.
Note.
"In this guide for executives, Hugos, a business agility and agile IT system practitioner and speaker, explains why responsiveness to consumer needs is now more important to successful organizations than industrial efficiency in today's global marketplace." (Book News, May 2009)