Business Analysis with QuickBooks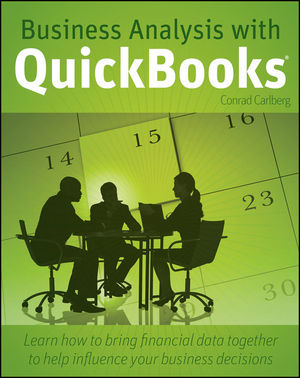 Business Analysis with QuickBooks
ISBN: 978-1-118-07668-2
Jan 2011
408 pages
Product not available for purchase
Description
Manage your business and make sound decisions with the help of QuickBooks
Quickbooks is a user-friendly accounting software program that can analyze data to help you make smart decisions for a small- or medium-sized business. However, few books explain how to maximize the features of QuickBooks reports for management purposes-until now. Author Conrad Carlberg guides you through the most beneficial ways to use and adapt QuickBooks reports by taking the summary data and placing it into a context that helps manage a business.
By avoiding aiming the coverage to a specific version of QuickBooks, this book is a timeless resource that clearly explains how to bring financial data together in order to help make wise business decisions.
Use the popular accounting software program QuickBooks to help you make wise business management decisions
Identify specific weak points in a business and learn how to turn them around
Quantify working capital and manage inventory valuation properly
Learn how to understand what QuickBook reports say about the state of your business now and for the future
Quickly get started converting QuickBooks accounting data into results that help you make informed business decisions and manage your business.
Introduction.
Part I: Exploiting Your QuickBooks Data.
Chapter 1: Using QuickBooks to Analyze Business Data.
Chapter 2: Exporting Data from QuickBooks.
Chapter 3: Digging Deeper with Pivot Tables.
Part II: Analyzing Financial Statements.
Chapter 4: Comparative Balance Sheets and Profit & Loss Statements.
Chapter 5: Working Capital and Cash Flow Analysis.
Chapter 6: Ratio Analysis.
Part III: Controlling Costs and Planning Profits.
Chapter 7: Inventory Valuation and Gross Margins.
Chapter 8: Forecasting and Projections in QuickBooks.
Chapter 9: Monitoring Budget Variances.
Chapter 10: Contribution and Margin Analysis.
Part IV: Designing Your Own Analysis.
Chapter 11: Using the QuickBooks Software Development Kit.
Chapter 12: Managing Reports Using the QuickBooks Software Development Kit.
Index.
For more information on analyzing your QuickBooks data.