Business Chemistry: How to Build and Sustain Thriving Businesses in the Chemical Industry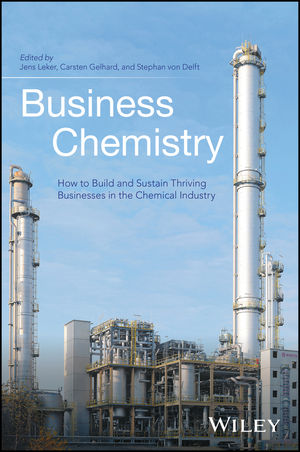 Business Chemistry: How to Build and Sustain Thriving Businesses in the Chemical Industry
ISBN: 978-1-118-85850-9
Mar 2018
352 pages
Description
Business Chemistry: How to Build and Sustain Thriving Businesses in the Chemical Industry is a concise text aimed at chemists, other natural scientists, and engineers who want to develop essential management skills. Written in an accessible style with the needs of managers in mind, this book provides an introduction to essential management theory, models, and practical tools relevant to the chemical industry and associated branches such as pharmaceuticals and consumer goods. Drawing on first-hand management experience and in-depth research projects, the authors of this book outline the key topics to build and sustain businesses in the chemical industry. The book addresses important topics such as strategy and new business development, describes global trends that shape chemical companies, and looks at recent issues such as business model innovation.
Features of this practitioner-oriented book include:
Eight chapters covering all the management topics relevant to chemists, other natural scientists and engineers.
Chapters co-authored by experienced practitioners from companies such as Altana, A.T. Kearney, and Evonik Industries.
Featured examples and cases from the chemical industry and associated branches throughout chapters to illustrate the practical relevance of the topics covered.
Contemporary issues such as business model design, customer and supplier integration, and business co-operation.
List of Contributors
Preface
Part I: Strategy
Chapter 1: Management Challenges in the Chemical and Pharmaceutical Industry
Chapter 2: Principles of Strategy: How to Develop Strategy?
Chapter 3: Strategic Analysis: Understanding the Strategic Environment of the Firm
Chapter 4: Management of Business Cooperation
Part II: Innovation
Chapter 5: Principles of Research, Technology and Innovation
Chapter 6: New Business Development – Recognizing and Establishing New Business Opportunities
Chapter 7 : Designing and Transforming Business Models
Chapter 8: External Integration: Why, When, and How to Integrate Suppliers and Customers?