Business Dashboards: A Visual Catalog for Design and Deployment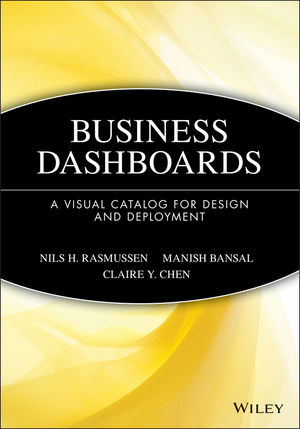 Business Dashboards: A Visual Catalog for Design and Deployment
ISBN: 978-0-470-46069-6
Mar 2009
304 pages
Description
Focusing on designing the right dashboards for use in an organization, this timely, full color book reveals how to successfully deploy dashboards by building the optimal software architecture and dashboard design. In addition, it describes the value of this popular technology to a business and how it can have a significant impact on performance improvement. A unique collection of more than 120 dashboard images are organized by category. One of the chapters provides a step-by-step description of the key performance indicator (KPIs) design process. One of the appendices contains more than 1,000 examples of KPIs to help design the content of dashboards. The book also describes all the steps in a dashboard implementation and offers related advice.

Nils Rasmussen (West Hollywood, CA) is cofounder and Principal of Solver, Inc. Claire Y. Chen (Long Beach, CA) is a Senior Business Intelligence Architect at Solver, Inc. Manish Bansal (Irvine, CA) is Vice President of Sales at Solver, Inc.
Preface.
Book Summary. 
Part 1. Introduction to Dashboards.
Chapter 1. Dashboards Definition.
Chapter 2. Dashboards' Role in a Business Intelligence Solution.
Chapter 3. Why Dashboards Have Become so Popular.
Chapter 4. Types of Dashboards.
Chapter 5. Designing Metrics and Key Performance Indicators.
Chapter 6. Dashboard Scenario: Use Case.
Chapter 7. Getting Ready for the Implementation.
Part 2. Summary and Readiness Checklist.
Part Two. Creating the Right Business Intelligence Architecture for Dashboards.
Chapter 8. Why a Good Architecture Is Important.
Chapter 9. Data Warehouse Techniques.
Chapter 10. Data Replication and Delivery.
Chapter 11. Query Language and Interactivity.
Chapter 12. Data Warehouse and Business Intelligence Dashboard Paradigm.
Chapter 13. Mobile Business Intelligence.
Part Two. Summary and Readiness Checklist.
Part 3. Dashboard Design.
Chapter 14. Design Tips.
Chapter 15. Dashboard Examples.
Part Three. Summary and Readiness Checklist.
Part 4. Managing a Dashboard Project.
Chapter 16. Planning the Project.
Chapter 17. Engaging the Users.
Chapter 18. Project Tips.
Chapter 19. Training and Deployment.
Part Four. Summary and Readiness Checklist.
Appendix A. Software Selection Tips.
Appendix B. Installation.
Appendix C. Hardware Recommendations.
Appendix D. Security Authentication Techniques.
Appendix E. Metrics and Key Performance Indicator Examples.
About the Authors.
Index.
"The book tackles the question from the ground up, explaining what dashboards are and what they're for, before diving deeply into data architecture and visual design, with tons of examples and illustrations. It even explains why dashboards are so popular." (Accounting Today, June 1-14, 2009)