Business Data Communications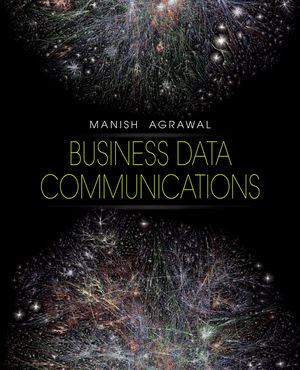 Business Data Communications
ISBN: 978-0-470-48336-7
Jan 2011
408 pages
Product not available for purchase
Description
This new textbook is designed for a one-semester undergraduate course in Business Data Communications for Information Systems students. Accordingly, it focuses on providing working knowledge of the data communications concepts and technologies that most students are likely to encounter after graduation instead of trying to cover every possible topic and technology in this vast field.

The author presents the minimal set of technologies that are absolutely necessary to enable computer networking in organizations -- including Ethernet, TCP/IS, ARP, NAT, DNS, DHCP, routing, subnetting and security – and focuses on showing what each of the technologies does, why each is necessary, and how each one works

Students will find this book uniquely engaging with hands-on exercises and two cases in every chapter to help them use and understand the networking concepts covered.

 






Preface.
1 Introduction.
2 Physical Layer.
3 Data-link Layer.
4 Network Layer.
5 Transport Layer.
6 Application Layer.
7 Support Services.
8 Subnetting.
9 Routing.
10 Wide Area Networks.
11 Wireless Networks.
12 Phone Networks.
13 Network Security.
14 Managerial Issues.
Appendix Networking Careers.
Index.
Companion website: http://www.wiley.com/college/agrawal.
Integrates a unifying theme throughout the book efficiency of network resource utilization to reinforce the important strategic organizational purpose of data communication.
Focuses on why technologies have been designed to work the way they do.
Focuses on a core set of data communications technologies.
Hands-on exercises in every chapter help engage students use and understand the networking concepts in each chapter. Exercises include tracert (chapter 1,) ipconfig (chapter 3, 4, and 8,) ping (chapter 4,) netstat (chapter 5,) and nslookup (chapter 7.) Spreadsheet exercises help students understand amplitude modulation (chapter 5) and CDMA (chapter 12.) Other exercises use software including Wireshark (chapters 6, 11, and 13,) OPNET (chapter 6 and 14,) and BGPlay (chapter 9).
A case in each chapter shows students the business use for the technologies covered in the chapter.
A network design case is integrated throughout the text to help students see how all the technologies integrate with each other in an enterprise network. Students make design choices to meet user requirements for the technology covered in each chapter.