Business Ethics: A Case Study Approach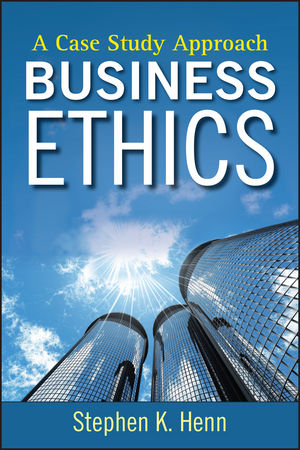 Business Ethics: A Case Study Approach
ISBN: 978-1-119-20538-8
Sep 2015
192 pages
Description
An important guide for senior management on structuring an organization to promote ethical behavior and enhance performance
Designed for senior leaders of organizations–boards of directors; C-level executives; trustees; managing partners; government officials; and anyone tasked with a duty–Business Ethics: A Case Study Approach provides readers with an understanding of the human elements that drive ethical and unethical behavior and how to recognize indicators–both bad and good–of an organization's ethical make-up. Topics featured include: what drives individual decision making; how groups and environments influence decision making; the role of leadership; and much more.
Preface.
Acknowledgments.
CHAPTER 1 Introduction.
Themes.
Case Study: A CFO's Dilemma.
CHAPTER 2 Why Are Ethics Critical?
What Is the Objective?
The Research.
Stakeholder Approach.
All Animals Are Equal, but ...
A Two-Way Street.
Uncle Sam.
Toward a Workable Model.
CHAPTER 3 Why ''Business'' Ethics Is Not Just about Corporations.
Case Study: The Duke University Lacrosse Scandal.
20/20 Hindsight.
The Burden of Expectations.
Case Study: The United Way.
A Broad Impact.
CHAPTER 4 A Historical Review.
The Ancient World.
Greek Citizens' Code.
Military Codes.
Cardinal Virtues and Vices.
Business Ethics in Times Past.
Timbuktu.
Case Study: Saint Thomas Aquinas.
Case Study: Arthur Andersen.
The Nature of Man.
CHAPTER 5 Why Do People Behave Badly?
Moral Development.
Fraud Triangle.
Propensity.
Hierarchy of Needs.
Case Study: Walt Pavlo.
There but for the Grace of God.
Broken Windows.
Rending Moral Fabric.
CHAPTER 6 Work Environment and Group Dynamics.
Social Animals.
Relative Ethics.
Social Control Theory.
Case Study: The Stanford Prison Experiment.
Elements of Social Bonding.
Case Study: The Milgram Experiment.
Power, Authority, and Proximity.
Positive Peer Pressure.
CHAPTER 7 Leadership.
Tone at the Top.
Authenticity.
Case Study: Václav Havel.
Outside Perspectives.
Case Study: The Smithsonian Institution.
Leadership Bonding.
CHAPTER 8 The Common Element—Trust.
Prisoners' Dilemma.
Trust.
The Cost of Trust.
Case Study: The Tylenol Poisonings.
A Well of Goodwill.
Case Study: Firestone–Ford Tire Recalls.
Two Approaches.
CHAPTER 9 Building an Army of Davids.
Herding Cats.
1 Samuel 17.
Breaking the Chains.
Basic Principles.
Evangelize.
Case Study: Jordan's Furniture.
Back to Maslow.
Moral Hazard.
Causes and Culture.
CHAPTER 10 The Positive Power of Peer Pressure.
The Gentleman at Dinner.
Belief.
I Fly SWA.
Attachment.
Commitment.
Involvement.
In the Trenches.
Why Are We Doing This?
The Whole Picture.
CHAPTER 11 How to Develop Leadership.
Fore!
Case Study: Whirlpool and Leadership Development.
Investing in the Future.
Emerging Leaders.
A Bias.
CHAPTER 12 The Logic of William of Ockham.
Law of Parsimony.
Is It the Means or the Ends?
The Whole View.
All Organizations Are Businesses.
Case Study: University versus Nation.
All about Me.
Case Study: Charles Ponzi and His Scheme.
Enjoying the Kool-Aid.
CEO and Trust.
Feeding the Wolf.
Index.
"Written for busines leaders, policymakers and anyone "tasked with a duty", this book examines the key elements of ethical and unethical business behaviors and outlines some of the psychological factors that may influence decision-making." (Book News, August 2009)