Business Ethics: Violations of the Public Trust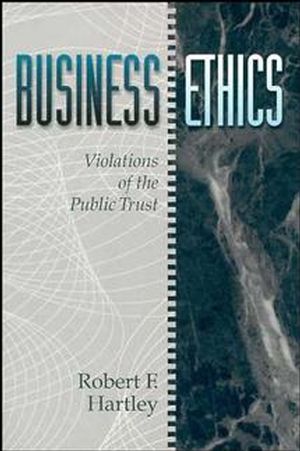 Business Ethics: Violations of the Public Trust
ISBN: 978-0-471-54591-0
Jan 1993
336 pages
Description
Any company violating the public trust today puts itself at a disadvantage. Competitors who are more eager to please their clients will gain the upper hand by developing trusting relationships. Readers are exposed to ethical problems, striking examples of unethical conduct, and a variety of moral dilemmas and temptations businesses encounter every day. The aim of this book is to teach from the mistakes of the well-known cases described and to show how to avoid, and how to respond best, should the worse scenario occur.
Partial table of contents:

CLASSIC ETHICAL VIOLATIONS.

Union Carbide: Assault on the Ohio Valley.

STP: Oh, Such Product Claims.

ITT: Heavy-Handed Interference in a Foreign Government.

The Dalkon Shield: Spurning User Safety.

CONTEMPORARY ETHICAL CONTROVERSIES.

Union Carbide's Bhopal Catastrophe.

Beech-Nut: Adulterated Apple Juice--for Babies.

The Savings & Loan Disaster: Repudiating Management's Trusteeship Responsibility.

Raiders: Raping American Corporations.

PowerMaster Beer: Targeting the Ghetto.

Recent Cigarette Controversies.

CONCLUSIONS.

Johnson & Johnson: Tylenol, a Shining Example of Responsible Business Conduct--And Yet...?

Conclusions: What Can Be Learned?.