Business Ethics and the Natural Environment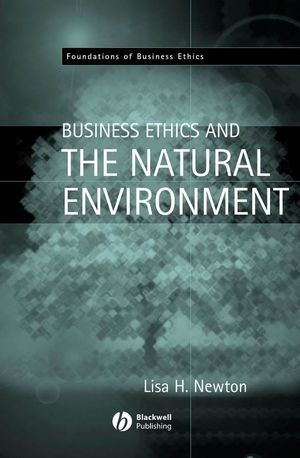 Business Ethics and the Natural Environment
ISBN: 978-0-470-77720-6
Apr 2008, Wiley-Blackwell
280 pages
Description
Business Ethics and the Natural Environment examines the present status of relations between corporate enterprise and the natural environment in the world today.


•Discusses such questions as: What obligations does a corporation have toward the environment? To respect entities unprotected by law? To care about future generations?


•Argues that environmentally-friendly business practices yield dividends exceeding expectations, and that the competitive firm of the 21st century will follow "green" standards


•Provides a background in ethics, a survey of business ethics, an account of environmental philosophy, an overview of environmental legal issues, and an account of the problems associated with globalization
Preface.
Acknowledgments.
Introduction.
1. Ethics: Terms and Forms of Reasoning.
Case 1: New England Fisheries.
2. From Ethics to Business Ethics.
Case 2: Hooker Chemical and Love Canal.
3. From Ethics to Environmental Ethics.
Case 3: Great Apes as Bushmeat.
4. The Law and the Natural Environment.
Case 4: Pacific Lumber.
5. Green Strategies and New Opportunities.
Case 5: Ben & Jerry's.
6. Globalizing: Environmental Problems Abroad.
Case 6: Shell Oil in Nigeria.
7. The Role of Civil Society Organizations.
Case 7: Monsanto and the GMOs.
8. Sustainability: The New Directions for Business.
Case 8: The Bronx Community Paper Company.
Bibliography.
Index
"With business's renewed focus on sustainable growth, Newton's hopeful book comes at the right time, providing us theoretically sound, eloquently presented, and practically wise frameworks and conclusions."
Dennis J. Moberg, Santa Clara University, and President, Society for Business Ethics
"This excellent book perfectly balances philosophical and case study analysis to help students explore within today's political and legal framework the responsibilities of business and of individuals to the natural environment." Mark Sagoff, University of Maryland
•Examines present status of relations between today's corporate enterprise and the natural environment
•Discusses such questions as: What obligations does a corporation have toward the environment? To respect entities unprotected by law? To care about future generations?

•Argues that environmentally-friendly business practices yield dividends exceeding expectations, and that the competitive firm of the 21st century will follow "green" standards

•Provides a background in ethics, a survey of business ethics, an account of environmental philosophy, an overview of environmental legal issues, and an account of the problems associated with globalization