Business Etiquette For Dummies, 2nd Edition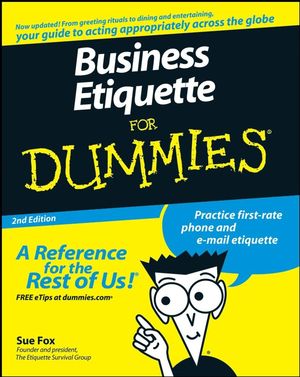 Business Etiquette For Dummies, 2nd Edition
ISBN: 978-1-118-05157-3 January 2011 360 Pages
Download Product Flyer
Download Product Flyer
Download Product Flyer is to download PDF in new tab. This is a dummy description. Download Product Flyer is to download PDF in new tab. This is a dummy description. Download Product Flyer is to download PDF in new tab. This is a dummy description. Download Product Flyer is to download PDF in new tab. This is a dummy description.
Description
Make no mistake, etiquette is as important in business as it is in everyday life — it's also a lot more complicated. From email and phone communications to personal interviews to adapting to corporate and international cultural differences,
Business Etiquette For Dummies, 2nd Edition,
keeps you on your best behavior in any business situation.
This friendly, authoritative guide shows you how to develop good etiquette on the job and navigate today's diverse and complex business environment with great success. You'll get savvy tips for dressing the part, making polite conversation, minding your manners at meetings and meals, behaving at off-site events, handling ethical dilemmas, and conducting international business. You'll find out how to behave gracefully during tense negotiations, improve your communication skills, and overcome all sorts of work-related challenges. Discover how to:
Make a great first impression
Meet and greet with ease
Be a good company representative
Practice proper online etiquette
Adapt to the changing rules of etiquette
Deal with difficult personalities without losing your cool
Become a well-mannered traveler
Develop good relationships with your peers, staff, and superiors
Give compliments and offer criticism
Respect physical, racial, ethnic, and gender differences at work
Learn the difference between "casual Friday" and sloppy Saturday
Develop cubicle courtesy
Avoid conversational faux pas
Business etiquette is as important to your success as doing your job well. Read Business Etiquette For Dummies, 2nd Edition, and make no mistake.
Table of contents
Introduction.
Part I: Conducting Yourself Gracefully in the Business World.
Chapter 1: Displaying Good Manners at Work.
Chapter 2: Making a Positive Impression on the Job.
Chapter 3: Working in a Diverse Environment.
Chapter 4: Look Sharp! Creating Professional Style and Presence.
Part II: Building Better Communication Skills.
Chapter 5: The Art of Meeting and Greeting.
Chapter 6: Making Polite Conversation.
Chapter 7: Improving Your Telephone Manners.
Chapter 8: Sharpening Your Written Communication Skills.
Chapter 9: Keeping Up with Electronic Etiquette.
Part III: Behaving in the Boardroom and Beyond.
Chapter 10: Minding Your Meeting Manners.
Chapter 11: Engaging in Business Meals and Parties.
Chapter 12: Mastering Dining Etiquette.
Chapter 13: Attending Conferences, Trade Shows, and Special Events.
Chapter 14: Taking Part in a Variety of Social Off-Site Activities.
Chapter 15: Marking Life's Major Events and Passages.
Part IV: Overcoming Work-Related Challenges.
Chapter 16: Coming to Terms with Difficult People.
Chapter 17: Managing Office Conflict.
Chapter 18: Managing Ethical Dilemmas at Work.
Chapter 19: Handling Sexuality in the Workplace.
Part V: Doing Business on a Global Scale.
Chapter 20: Pack Your Manners! Traveling for Business.
Chapter 21: Now You've Arrived: Adapting to a New World.
Chapter 22: Crossing Cultural Lines: Your Passport for Success.
Part VI: The Part of Tens.
Chapter 23: Nearly Ten College-to-Career Etiquette Tips.
Chapter 24: Ten Tips for Impressive Job Interviews.
Index.