Business Intelligence Success Factors: Tools for Aligning Your Business in the Global Economy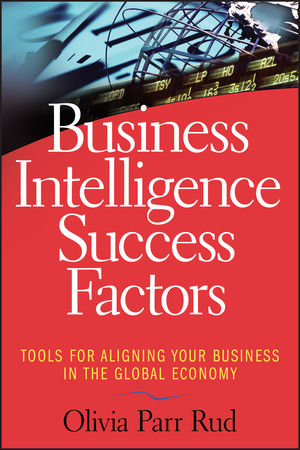 Business Intelligence Success Factors: Tools for Aligning Your Business in the Global Economy
ISBN: 978-0-470-39240-9
Jun 2009
283 pages
Description
Praise for Business Intelligence Success Factors: Tools for Aligning your business in the Global Economy
""Olivia Parr Rud does a remarkable job of weaving together many topics in a strategic way. As 'quants,' we're fascinated with data and fact-based decision-making. But success only comes when you consider the human factor, especially effective communications. Making topics like evolutionary biology, complexity science, and systems thinking relevant for business success is a unique and compelling view. As Max Frisch said, 'We hired workers and human beings came instead.'""
—Anne Milley, Senior Director, Technology Product Marketing, SAS
""Business Intelligence Success Factors is a must-read for anyone implementing BI on an organizational level. This book explains the business landscape and the underlying reasons for our current volatility, offering clear guidance on navigating our information rich global economy.""
—Ron Powell, Editorial Director, Business Intelligence Network
Transform challenges into opportunities with emerging Business Intelligence technologies
Written by an expert in data mining and statistical analysis, this valuable resource unveils the connection between the increased use of BI and the need for new, proven theories and models in BI, as well as the guidance to implement them successfully in your organization.
Are you ready to become adaptable? Learn how to harness today's rapidly evolving global economy with Business Intelligence Success Factors.
Buy Both and Save 25%!
Original Price:$129.95
Purchased together:$97.46
save $32.49
Cannot be combined with any other offers.
Buy Both and Save 25%!
Original Price:$99.90
Purchased together:$74.93
save $24.97
Cannot be combined with any other offers.
About the Contributors.
Preface.
Acknowledgments.
PART ONE The Landscape.
Chapter 1 The Evolving Business Landscape.
Navigating Uncharted Waters.
Shifting from Reactive to Proactive.
Strategies for Capturing Value.
Motivation for Change.
The Evolving Organization.
Chapter 2 Models from Science and Nature.
Quantum Physics.
Evolutionary Biology and Living Systems.
Complexity Science and Chaos.
Systems Theory and Systems Thinking.
PART TWO The Success Factors.
Chapter 3 Effective Communication.
Benefits of Effective Communication.
Principles of Communication.
Communication in a High-Tech Economy.
Nonverbal Communication.
Theory of Relational Coordination.
Principles of Dialogue.
Art of Listening.
Storytelling.
Chapter 4 Collaboration.
Collaborating for the Future.
Creating a Collaborative Culture.
Building Collaborative Teams.
Value of Trust.
Collaborative Technologies.
Collaboration in Action: A Case Study.
Chapter 5 Innovation.
Creativity.
Innovation in the Marketplace.
Tips from the Field.
Chapter 6 Adaptability.
The Shifting Paradigm.
Traditional Methods.
The New Paradigm.
Models for Adaptive Organizations.
Leveraging Chaos in Organizations.
Conflict Resolution: A Living Systems Approach.
The Learning Organization.
A New Global Organization.
Chapter 7 Leadership.
The Conscious Leader.
Social Intelligence.
Paradox of Empowerment.
10 Principles for Leading a Dynamic Organization.
Tapping Organizational Wisdom.
PART THREE Models and Practices.
Chapter 8 Systems Thinking.
Basics of Systems Thinking.
Systems View of Business Analytics.
Chapter 9 Holacracy.
Evolving the Organization.
Introducing Holacracy.
Organizational Structure.
Organizational Control.
Core Practices.
Shared Language and Meaning.
PART FOUR Beyond Our Corporate Borders.
Chapter 10 Possibilities.
Holacracy in the World.
Edgewalkers.
Organizations on Purpose.
Bottom Line.
Appendix A: Resources.
Appendix B: Suggested Reading.
About the Author.
Index.
| | | | | |
| --- | --- | --- | --- | --- |
| | 67 | Business Intelligence Success Factors: Tools for Aligning Your Business in the Global Economy,Cultural Elements of Collaboration, second sentence: Change "Rosen suggest that there are ten cultural elements of collaboration" to "Rosen identifies ten cultural elements of collaboration" | | |
| | 68 | Business Intelligence Success Factors: Tools for Aligning Your Business in the Global Economy,Page 68: Instilling a Culture of Collaboration, last sentence in first paragraph Delete sentence and replace with: Rosen identifies the following approaches for instilling a culture of collaboration: | | |
| | 89 | Business Intelligence Success Factors: Tools for Aligning Your Business in the Global Economy,Notes, note 2: Delete "Adapted from Dan Rosen" and replace with "Evan Rosen" | | |
| | 266 | Business Intelligence Success Factors: Tools for Aligning Your Business in the Global Economy,Appendix B, Chapter 5, second entry: Change "Rosen, Dan" to "Rosen, Evan" | | |