Business Law, 3rd Edition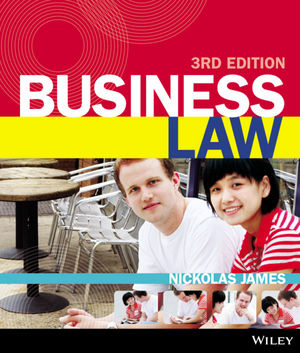 Business Law, 3rd Edition
ISBN: 978-1-118-37784-0
Oct 2013
768 pages
Product not available for purchase
Description
The third edition of James' innovativetext continues to demonstrate business law principles in a clear and accessible style.  The objective of a business law subject is to ensure that students acquire sufficient knowledge of the law of business so they can recognise and solve simple legal problems, organise their affairs in order to avoid more complex or serious legal problems and appreciate the connection of legal principles within a range of commercial environments.
Because the majority of students are required to study business law as part of either a commerce or business degree, this textbook follows a functional approach to the study of business law rather than doctrinal so the principles of business law are contextualised within a business environment.
Business students need to know more than what the law is, they need to know where to find it, how to read it, how to use it and how it impacts on all facets of business. Students who use this textbook will develop a greater awareness of the law and its broad application to business and commercial environments. 
Preface  viii
About the author  xi
How to use this book  xii
Acknowledgements  xiv
Abbreviations  xvi
Cases  xx
Statutes xxiv
PART 1: Foundations  3
Chapter 1. Introducing the law 4
Introduction 6
The nature of law 8
Justice, ethics and politics 20
Chapter 2. Understanding the Australian legal system 50
Introduction 52
The Australian Constitution 52
The legislature 61

The executive 72

The judiciary 81

Chapter 3. Exercising legal skills 112
Introduction 114
Finding the law 115
Reading the law 120

Thinking like a lawyer 143
Writing like a lawyer 148
PART 2: Legal consequences 161
Chapter 4. Causing harm 162
Introduction 164
Causing harm 164
Deliberately causing harm to person or property 168
Deliberately causing financial harm 208
Carelessly causing financial harm 213
The consequences of causing harm 218
Chapter 5. Making deals 228
Introduction 230
Contracts 230
Requirement 1: agreement 231
Requirement 2: intention 241
Requirement 3: consideration 246
Enforceability 255
Lack of consent 255
Lack of legality 270
Lack of formality 271
Chapter 6. Enforcing deals 280
Introduction 282
False representations and broken promises 282
Terms of the contract 282
Non-contractual representations and promises 301
Enforcing the contract 306
Remedies 312
The end of the contract 322
Chapter 7. Dealing with agents 332
Introduction 334
Getting someone else to do it 334
Scope of authority 337
The agent's duties 344
The agent's entitlements 349
Liability of agent and principal 351
Concluding the agency 353
Chapter 8. Dealing with consumers and competitors 362
Introduction 364
Protecting consumers 364
Dealing with consumers 367
Regulating competition 402
Dealing with competitors 403
Chapter 9. Protecting IP 432
Introduction 434
Intellectual property law 434
Copyright 437
Patents 466
Designs 474
Breach of con dence 477
Information privacy 479
PART 3: Business ownership 497
Chapter 10. Starting a business 498
Introduction 500
Preparation 500
Selecting a business structure 503
Licences and registration 522
Renting or buying the premises 523
Franchising 539
Opening for business 543
Chapter 11. Financial matters 554
Introduction 556
Borrowing and raising money 556
Making payments 567
Paying tax 576

Taking out insurance 582
Chapter 12. Business ownership and employment 598
Introduction 600
Rights and responsibilities of business owners 600
Employing workers 629

Chapter 13. Financial di culty 654
Introduction 656
Financial difficulty: the customer 656
Financial difficulty: the business 668
Closing the business 691
Glossary 703
Index 723
Emphasis on presenting balance of cases nationwide
Chapter 5 Making Deals contracts coverage bolstered
Chapter 8 Dealing with consumers and competitors has had significant revision in accordance with the requirements in the Australian Consumer Law, as set out in the Competition and Consumer Act 2010. Its expanded coverage will include more detail regarding 'cartel conduct'.
Chapter 7 Dealing with agents is revised, and expands the coverage of contract law in the text to 4 chapters
Chapter 9 Protecting IP has been revised in accordance with changes under the Copyright Act and includes recent law cases relating to intellectual property and copyright infringements
New 'Caution!' feature identifies legal consequences that may arise
New 'Checklist' feature lists the key legal learning outcomes from reading various chapter sections
Updated Case Law summaries
Chapter 10 Financing a business – revised to cover rules relating to securities over personal property and the minimum levels of capital and solvency required for insurers under the Insurance Act
Chapter 13 Experiencing financial difficulty – updated to cover changes to credit licences and responsible lending requirements under the National Consumer Credit Protection Act 2009.
Each chapter begins and ends with 'Johnny and Ash' – a framing narrative which establishes the importance and relevance of the business law concepts presented, by describing a particular problem or situation. This feature appears in each chapter and involves a range of scenarios between two characters: Johnny, a restaurant owner, and Ash, a solicitor. Johnny and Ash begin each chapter by discussing one of more of the key issues explored within the chapter, and conclude each chapter with the resolution of those issues. They do so in a way which grounds these key issues in the real world, demonstrating how and why these issues might arise in business practice. The various scenarios link together into a continuing storyline, engaging the students' interest as they progress from chapter to chapter
Chapter 3, Exercising Legal Skills, describes and develops important legal skills such as research, reading, interpretation and writing. This is an important chapter, not found in most introductory business law textbooks
Where appropriate, tables, diagrams, flowcharts and concept maps are used to illustrate  the more complex material within the text
Each chapter is periodically punctuated with questions which require the student to either reflect, research or revise key points. These questions ensure that students engage with the text actively rather than passively. Each section within a chapter concludes with a set of revision questions testing the student's ability to recall the key points from the section
Throughout the text the student is referred to the many useful online resources relevant to the practice of business law in Australia
'Law in context' boxes offer alternative perspectives on the law described in the main text. These perspectives include the operation of the law in practice, ethical perspectives, the portrayal of the law in popular culture, philosophical or historical perspectives on the law, insights upon the law from other disciplines such as economics or social science, the political context within which the law was developed and the law in a global context
Each chapter concludes with a set of quiz questions for students to test their own understanding of the content, as well as a set of exercises where the student can apply their knowledge to the solution of particular legal problems or further explore more challenging aspects of the law
Balances legal doctrine, practical perspectives, law in context and critical perspectives.
Organised into 13 manageable chapters corresponding with a typical semester, making it possible to use the entire textbook and cover all relevant business law topics in appropriate depth. No need to customise this textbook to suit the subject outline
Presents a functional rather than doctrinal approach, e.g. instead of 'tort law' and 'contract law', the chapters look at 'causing harm' and 'making deals'.