Business Law: An Active Learning Approach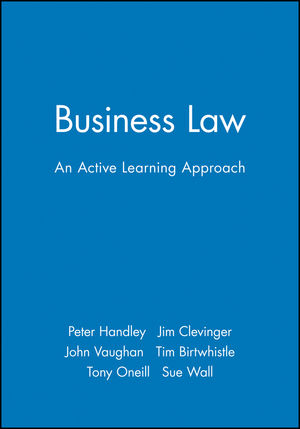 Business Law: An Active Learning Approach
ISBN: 978-0-631-20183-0
Mar 1997, Wiley-Blackwell
440 pages
Description
Business Law is part of a new national program of highly developed texts and modules for undergraduate students following business studies prgograms. It provides 100 hours of quality study to be used by students in a supported learning environment.
Guide for Students.
Guide for Lecturers.
Part I:.
The English Legal System.
The Nature of Law.
Sources of Law.
The Courts and Tribunals.
Legal Personnel and Legal Aid.
Part II: .
Legal Relationships.
Liability for Employees and Agents.
Sole Traders and Partnerships.
Forming a Company.
Managing the Company.
Part III:.
Business Contracts.
Making a Contract.
What can go Wrong During the Making of a Contract.
Contractual Terms.
Discharging a Contract.
Part IV:.
Non-Contractual Obligations of the Seller/Producer.
The Duty of Care in Negligence.
Other Aspects of Negligence and Product Liability.
Other Aspects of Tort.
Liability in Respect of Employees.
Part V:.
European Community Law.
The Development of the European Community.
The Functions of the Institutions.
The Sources of European Community Law.
The Integration of European Community Law at a National Level.
Enforcement of European Community Law at a European Level.


Comprehensive coverage and does not assume any prior knowledge of the subject.


Numerous self check questions and activity boxes to test students' understanding.


A lively and accessible approach for students.