Business Leadership in China: How to Blend Best Western Practices with Chinese Wisdom, Revised Edition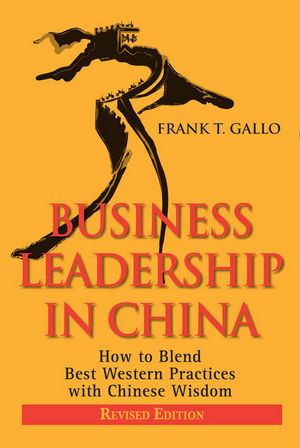 Business Leadership in China: How to Blend Best Western Practices with Chinese Wisdom, Revised Edition
ISBN: 978-0-470-82733-8 February 2011 256 Pages
Description
In this revised edition of Frank Gallo's best-selling book, the author brings the story of leadership in China right up to date. With new material on Chinese leadership styles and the challenges of going global, the book is ideal for any international manager who wants to better understand how to blend the best practices of Western leadership with traditional Chinese wisdom. The content comes from a combination of English and Chinese literature, interviews with practicing executives in China as well as the author's own experience as a leader in China.

Dr. Frank Gallo, the Greater China Chief Leadership Consultant for Hewitt Associates, offers sage advice on effective leadership practices for the China market. His key areas of focus include:
the unique challenge and complex issues of leading a firm or division in China 
major areas of cultural differences such as teamwork, decision-making and
employee motivation, between Chinese and Western business practices 
common areas of misunderstanding such as truth versus courteousness; managing a hierarchy versus empowerment; and dealing with the role of the individual rather than the rule of law 
implementing effective leadership strategies and development with a Chinese company.
This timely book will ensure a harmonious leadership style that draws out the best from both Western and Chinese business practices.
Acknowledgments.
Preface to the Revised Edition.
Foreword.
A Personal Story.
Part I Understanding Leadership in China Today.
Chapter 1 Introduction.
Chapter 2 Methodology and Format of the Book.
Chapter 3 Special Leadership Needs in China.
Chapter 4 Philosophical and Cultural Foundations of Western Leadership.
Chapter 5 Philosophical and Cultural Foundations of Chinese Leadership.
Chapter 6 Unique Leadership Traits in China.
Chapter 7 Leading from the Heart.
Chapter 8 Human Resource Trends in China.
Part II Making It Work in China.
Chapter 9 Truth versus Courtesy.
Chapter 10 Trust.
Chapter 11 Empowerment versus Hierarchy.
Chapter 12 Individualism versus Collectivism.
Chapter 13 The Rule of Man versus the Rule of Law.
Chapter 14 Innovation and Risk-Taking.
Chapter 15 Decision-Making.
Chapter 16 Influencing Employee Motivation.
Chapter 17 Teamwork.
Chapter 18 Rewarding Executives in China.
Chapter 19 Executive Coaching.
Part III What Do We Do Now?
Chapter 20 What Should a Leadership Program in China Look Like?
Chapter 21 Progressing from a Chinese Manager to a Global Leader.
Chapter 22 Conclusion.
Appendix 1 About the Interviewees.
Appendix 2 Key Chinese Concepts Relevant to Leadership in China.
Bibliography.
Index.