Business Model You: A One-Page Method For Reinventing Your Career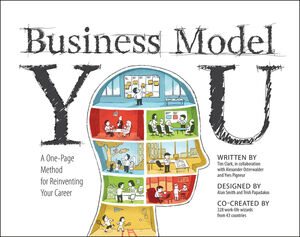 Business Model You: A One-Page Method For Reinventing Your Career
ISBN: 978-1-118-53738-1
Aug 2012
264 pages
Description
A one-page tool to reinvent yourself and your career
The global bestseller Business Model Generation introduced a unique visual way to summarize and creatively brainstorm any business or product idea on a single sheet of paper. Business Model You uses the same powerful one-page tool to teach readers how to draw "personal business models," which reveal new ways their skills can be adapted to the changing needs of the marketplace to reveal new, more satisfying, career and life possibilities. Produced by the same team that created Business Model Generation, this book is based on the Business Model Canvas methodology, which has quickly emerged as the world's leading business model description and innovation technique.
This book shows readers how to:
Understand business model thinking and diagram their current personal business model
Understand the value of their skills in the marketplace and define their purpose
Articulate a vision for change
Create a new personal business model harmonized with that vision, and most important, test and implement the new model
When you implement the one-page tool from Business Model You, you create a game-changing business model for your life and career.
1 Canvas
Learn to use the key tool for describing and analyzing organizational and personal business models.
Chapter 1 Business Model Thinking: Adapting to a Changing World 19
Chapter 2 The Business Model Canvas 25
Chapter 3 The Personal Business Model Canvas 53
2 Reflect
Revisit your life direction and consider how you want to align your personal and career aspirations.
Chapter 4 Who Are You? 81
Chapter 5 Identify Your Career Purpose 133
3 Revise
Adjust — or reinvent — your work life using the Canvas and discoveries from previous sections.
Chapter 6 Get Ready to Reinvent Yourself 161
Chapter 7 Re-Draw Your Personal Business Model 175
4 Act
Learn to make it all happen.
Chapter 8 Calculate Your Business Value 209
Chapter 9 Test Your Model in the Market 223
Chapter 10 What's Next? 243
5 Extras
Read more about the people and resources behind Business Model You.
The Business Model You Community 252
Creator Bios 254
Notes 256