Business Network Transformation: Strategies to Reconfigure Your Business Relationships for Competitive Advantage, J-B Edition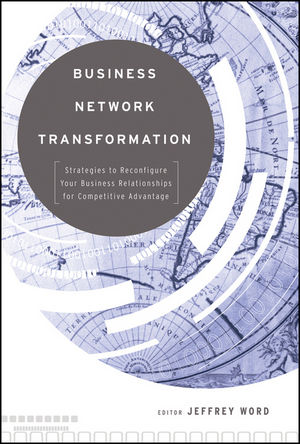 Business Network Transformation: Strategies to Reconfigure Your Business Relationships for Competitive Advantage, J-B Edition
ISBN: 978-0-470-52834-1 August 2009 Jossey-Bass 304 Pages
Description
In order to defend themselves against commoditization and disruptive innovation, leading companies are now gaining competitive advantage through networked business models and tapping into talent from outside their company. Rather than implementing rigid ""built-to-last"" processes, organizations are now constructing more fluid ""built-to-adapt"" networks in which each member focuses on its differentiation and relies increasingly on its partners, suppliers, and customers to provide the rest.

With contributions by the biggest names in business network transformation, this book offers cutting edge research and an in-depth exploration of critical topics such as customer value, supply networks, product leadership, global processes, operations, innovation, relationship management, and IT.

The book also provides practical guidance for successfully engaging in BNT, and is filled with illustrative case studies from some of the world's largest and most successful companies. It contains the vital information business leaders need to enable their companies to deliver faster innovation to customers at lower cost by sharing investments, assets, and ideas across their business networks. An essential resource for all business leaders, Business Network Transformation shows how to transform any business network to achieve competitive advantage and increase the bottom line.

Contributors include Geoffrey Moore, Philip Lay, Marco Iansiti, Mohan Sawhney, Ranjay Gulati, David Kletter, Venkat Venkatraman, John Hagel III, John Seely Brown, Gautam Kasthurirangan, Randall Russell, Henry Chesbrough, Jeffrey Dyer, and Andrew McAfee.
Acknowledgments.
Introduction.
1 Transforming Your Business Network (Philip Lay, Geoffrey Moore).
2 Business Network Transformation in Action (Marco Iansiti, Ross Sullivan).
3 Creating Superior Customer Value in a Connected World (Mohanbir Sawhney, Ranjay Gulati).
4 Shrinking Core, Expanding Periphery: The Relational Architecture of High-Performing Organizations (Ranjay Gulati, David Kletter).
5 Product Leadership in a Network Era (N. Venkatraman).
6 Driving Collaborative Success in Global Process Networks (John Hagel III, John Seely Brown, Gautam Kasthurirangan).
7 Operational Excellence: The New Lever for Profitability and Competitive Advantage in a Networked World (Randall H. Russell).
8 Constructing and Managing Innovation in Business Networks (Henry Chesbrough).
9 The Value of Trust in Business Networks (Jeffrey H. Dyer).
10 The Role of IT in Business Network Transformation (Andrew McAfee).
11 Road Map to Transform Your Business Network (Philip Lay, Geoffrey Moore).
Notes and References.
About the Authors.
Subject Index.
Company Index.
""Operational excellence can no longer be achieved by focusing only on a company's internal resources. Companies today operate with tightly-linked global business networks. This book provides managers with vital insights on how to achieve alignment and process efficiencies across their entire virtual organization of suppliers, customers, complementors, and alliance partners.""
—Robert S. Kaplan, Baker Foundation Professor, Harvard Business School and chairman, Professional Practice, The Palladium Group
""This book makes the connection between the wave of new technologies and their ability to create entirely new value throughout a business network. It's about the creation of revenues and profits by working in a wholly different manner with your extended business network. If you have to pick one book to get the whole picture on the new world of business networks, then get this one and share in the common understanding a remarkable collection of business leaders have brought to the topic.""
—Andy Mulholland, Global Chief Technology Officer, Capgemini