Business Planning and Control: Integrating Accounting, Strategy, and People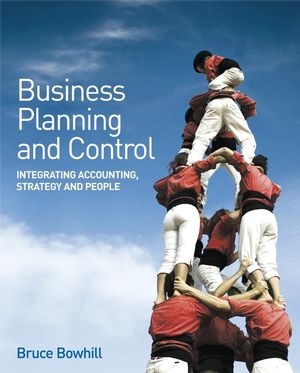 Business Planning and Control: Integrating Accounting, Strategy, and People
ISBN: 978-0-470-06177-0
May 2008
640 pages
Description
Business Planning and Control: Integrating Accounting, Strategy and People starts with an introduction to core areas of management accounting and business planning. It then explores relationships between strategy, management accounting information, and the design of control systems, taking into account the needs of both people and organizations.

Business Planning and Control is an indispensable text for both undergraduate and postgraduate students taking modules related to management accounting and business planning and control.
Preface.
Information available on the website.
Acknowledgements.
Part 1: Information for decision-making and financial reporting requirements.
1. Cost behaviour and contribution.
2. Pricing and costing in a competitive environment.
3. Further decision-making problems.
4. Capital investment decisions.
5. Traditional approaches to full costing.
6. Activity-based costing.
Part 2: Traditional accounting controls.
7. Budgetary control systems.
8. Preparing the master budget.
9. Standard costing and manufacturing methods.
10. Control in divisionalized organizations.
11. Control using accounting ratios.
12. Funding the business.
Part 3: Strategic management.
13. Objectives, strategy and influences.
14. Strategic analysis - the external environment.
15. Internal appraisal of the organization.
16. Accounting and strategic analysis.
17. Identifying suitable strategic options.
18. Evaluating strategies and writing the business plan.
Part 4: Issues in management control.
19. Budgetary control, performance management and alternative approaches to control.
20. Strategy and control system design.
21. Measuring shareholder value.
22. Measuring and improving internal business processes.
23. Complexity, uncertainty and control.
Indicative answers to questions.
Case information.
Appendix. Present value table.
Glossary.
References.
Index.
Provides an integrative approach to business planning and control
Includes a specific focus on the design of planning and control systems.
Considers key techniques of strategic management
Uses management accounting techniques for operational, managerial and strategic purposes
Provides case study information to form a thematic thread throughout the text
Features of the text
Theory and practice and use of case material
 The text takes a practical approach and wherever possible examples are used to illustrate key learning points.   For instance, in Part 2 of the book, planning and control for one organization is explored over several chapters. In Part 3, several chapters relate to a single industry, with theoretical and real organisations considered. Chapter exercises in Part 3 and 4 in particular, draw on material from a limited number of short case scenarios that are provided at the end of the book.
Questions and answers
Self assessment questions
Throughout each chapter, self assessment questions are set, which test understanding of the key learning points covered in the previous section of the text. Answers to the self assessment questions are provided at the end of each chapter.
End of chapter questions and answers
End of chapter questions and answers cover both discussion and where relevant, numerical questions. Answers to some of the questions are provided at the back of the textbook. Answers to other questions are found on the student and lecturer areas of the website.
Website
Access to the website can be found at www.wileyeurope.com/college/bowhill.  

The student's website includes:
i)   Answers to a number of the questions set at the end of each chapter.
ii)   Multiple choice questions.
iii) A full version of the book's glossary.
iv) Supplementary reference material on some key issues, including web links to resources.



The lecturer's website includes:
i)   PowerPoint slides of the lecture material.
ii) Excel spreadsheets of exercises that have been used to illustrate key points in the chapters of the book can be downloaded. Students can use these spreadsheets to help develop an understanding of the relationship between key variables and to assess the impact of changes in input values.